A Cross Sectional Study to Evaluate Adverse Outcomes of Vitamin D Deficiency in Females of Lahore, Pakistan
Adverse Outcomes of Vitamin D Deficiency in Females
Abstract
Vitamin D is a group of fat-soluble sec steroids responsible for increasing intestinal absorption of calcium, magnesium, and phosphate, and multiple other biological effects. The most important compounds in human are vitamin D₃ and vitamin D₂. Vitamin D is essential for strong bones, because it helps the body use calcium from the diet. Vitamin D deficiency has been associated with rickets, a disease in which the bone tissue doesn't properly mineralize, leading to soft bones and skeletal deformities. A cross sectional study was conducted from 30th January 2021  to 30th June 2021 to evaluate adverse outcomes of Vitamin D level among 370 females of aged 20-60 years were recruited through non-probability convenient sampling technique from students and Faculty ofColleges and Universities in Lahore, Pakistan. The data was collected through a Semi-Structured Questionnaire.A total 370 participantswere included age groups of female ranging from 20-60. Comparing age and level of Vitamin D was more common in reproductive age of females with more association in young females of 20 to 30 years. 81.9 % participants had general awareness regarding deficiency of vitamin D. 80% People eat Vitamin D Rich Diet While only 20% use vitamin D supplements and only 41.9 % females drinks a Cup of Cow Milk. 73.8% participants had suffered weakness and general body aches and 82.2% females reported musculoskeletal pain.This studyevaluated thatMost of Educated People are unaware of Vitamin D knowledge and intake. They take insufficient amount of Vitamin D and experience discomfort in Muscoskeletal system.
References
Holick MF. Vitamin D deficiency. New England journal of medicine. 2007;357(3):266-281.
Holick MF, Chen TC. Vitamin D deficiency: a worldwide problem with health consequences. The American journal of clinical nutrition. 2008;87(4):1080S-6S.
Pearce SH, Cheetham TD. Diagnosis and management of vitamin D deficiency. Bmj. 2010;340.
Prentice A. Vitamin D deficiency: a global perspective. Nutrition reviews. 2008;66(suppl_2):S153-S64.
S Mason R, Reichrath J. Sunlight vitamin D and skin cancer. Anti-Cancer Agents in Medicinal Chemistry (Formerly Current Medicinal Chemistry-Anti-Cancer Agents). 2013;13(1):83-97.
Holick MF, Chen TC, Lu Z, Sauter E. Vitamin D and skin physiology: AD‐lightful story. Journal of Bone and Mineral Research. 2007;22(S2):V28-V33.
Cannell J, Hollis B, Zasloff M, Heaney R. Diagnosis and treatment of vitamin D deficiency. Expert opinion on pharmacotherapy. 2008;9(1):107-118.
Gordon CM, DePeter KC, Feldman HA, Grace E, Emans SJ. Prevalence of vitamin D deficiency among healthy adolescents. Archives of pediatrics & adolescent medicine. 2004;158(6):531-537.
Lee JH, O'Keefe JH, Bell D, Hensrud DD, Holick MF. Vitamin D deficiency: an important, common, and easily treatable cardiovascular risk factor? Journal of the American College of Cardiology. 2008;52(24):1949-1956.
Forrest KY, Stuhldreher WL. Prevalence and correlates of vitamin D deficiency in US adults. Nutrition research. 2011;31(1):48-54.
Aparna P, Muthathal S, Nongkynrih B, Gupta SK. Vitamin D deficiency in India. Journal of family medicine and primary care. 2018;7(2):324.
Weir EK, Thenappan T, Bhargava M, Chen Y. Does vitamin D deficiency increase the severity of COVID-19? Clinical Medicine. 2020;20(4):e107.
Amrein K, Scherkl M, Hoffmann M, Neuwersch-Sommeregger S, Köstenberger M, Berisha AT, et al. Vitamin D deficiency 2.0: an update on the current status worldwide. European journal of clinical nutrition. 2020;74(11):1498-1513.
Sizar O, Khare S, Goyal A, Bansal P, Givler A. Vitamin D deficiency. StatPearls [Internet]. 2021.
Oktaria V, Triasih R, Graham SM, Bines JE, Soenarto Y, Clarke MW, et al. Vitamin D deficiency and severity of pneumonia in Indonesian children. Plos one. 2021;16(7):e0254488.
Vranić L, Mikolašević I, Milić S. Vitamin D deficiency: consequence or cause of obesity? Medicina. 2019;55(9):541.
Vatandost S, Jahani M, Afshari A, Amiri MR, Heidarimoghadam R, Mohammadi Y. Prevalence of vitamin D deficiency in Iran: a systematic review and meta-analysis. Nutrition and health. 2018;24(4):269-278.
Jadoon SA, Ahmed A, Alam MA. Vitamin D Deficiency In Pakistan: Tip Of Iceberg. Journal of Ayub Medical College, Abbottabad: JAMC. 2018;30(1):78-80.
Shamsi U, Azam I, Shamsi A, Shamsi D, Callen D. Frequency and determinants of vitamin D deficiency among premenopausal and postmenopausal women in Karachi Pakistan. BMC women's health. 2021;21(1):1-8.
Moussavi M, Heidarpour R, Aminorroaya A, Pournaghshband Z, Amini M. Prevalence of vitamin D deficiency in Isfahani high school students in 2004. Hormone Research in Paediatrics. 2005;64(3):144-148.
Mithal A, Wahl DA, Bonjour J-P, Burckhardt P, Dawson-Hughes B, Eisman JA, et al. Global vitamin D status and determinants of hypovitaminosis D. Osteoporosis international. 2009;20(11):1807-1820.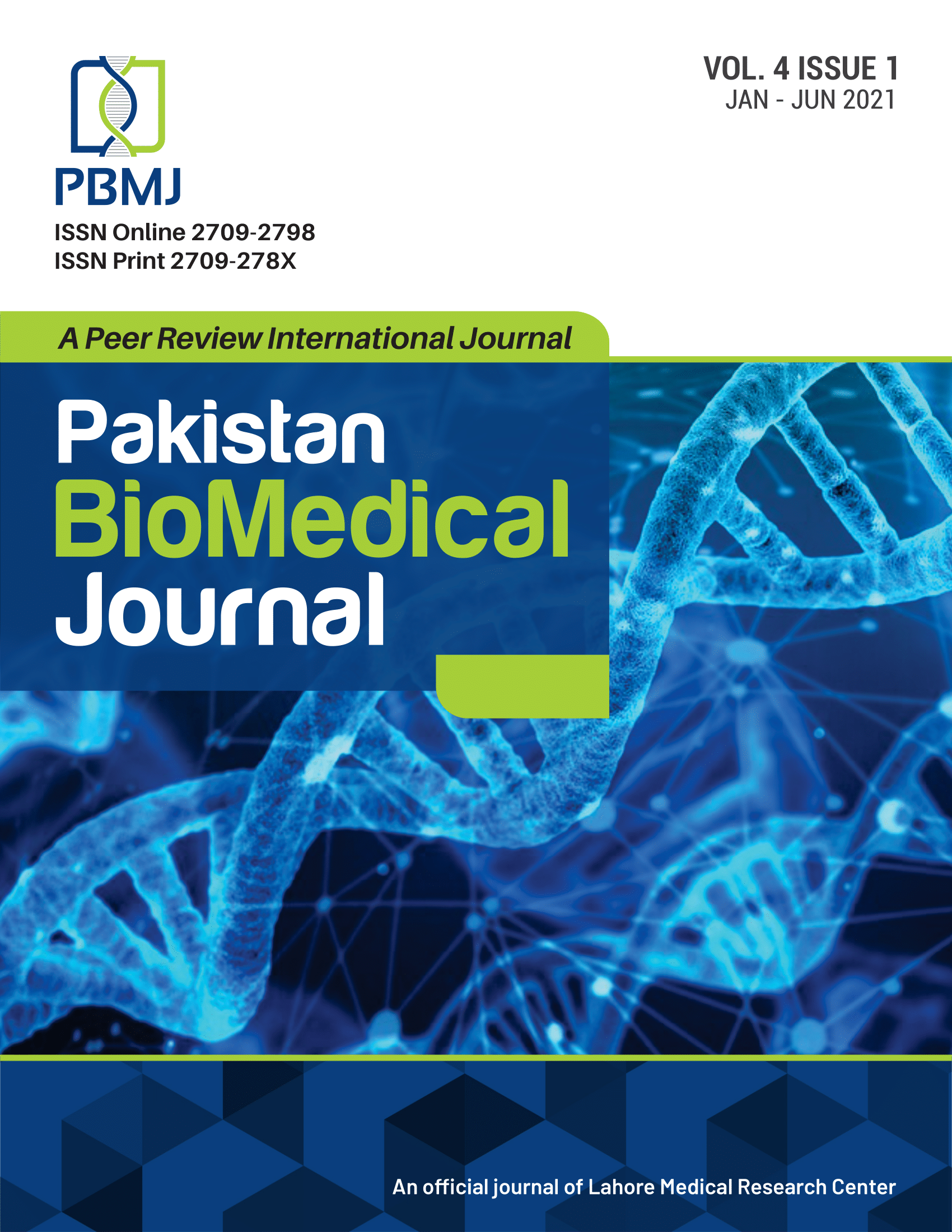 Downloads
CITATION
DOI: 10.54393/pbmj.v4i2.85
How to Cite
Faridi, T. A. ., John, A. ., Iqbal, N. ., Ahmed, A., & Hussain , M. B. . (2021). A Cross Sectional Study to Evaluate Adverse Outcomes of Vitamin D Deficiency in Females of Lahore, Pakistan: Adverse Outcomes of Vitamin D Deficiency in Females. Pakistan BioMedical Journal, 4(1). https://doi.org/10.54393/pbmj.v4i2.85
License
Copyright (c) 2021 Pakistan BioMedical Journal
This work is licensed under a Creative Commons Attribution 4.0 International License.
This is an open-access journal and all the published articles / items are distributed under the terms of the Creative Commons Attribution License, which permits unrestricted use, distribution, and reproduction in any medium, provided the original author and source are credited. For comments editor@pakistanbmj.com