Evaluating the Association of Keratoconus with Consanguinity
Association of Keratoconus with Consanguinity
Keywords:
Keratoconus, consanguinity, genetics, inheritance
Abstract
To determine the relation between consanguinity and keratoconus (KC).  Study Design: Comparative cross sectional study. Place and duration of study: Ophthalmology department of The University of Lahore Teaching Hospital, Lahore from 12th February to 18th June, 2021. Methods:A comparative cross sectional study was carried out to find the relation between consanguinity and keratoconus. 30 KC diagnosed patients were included in the study according to sample size. A self administered questionnaire was made to collect information about demographic data, various KC findings, clinical signs andnature of marriage between the parents of the participants. Results:Out of 30recruitedKC patients with age ranging between 10-30 years, 13 subjects were male and 17 were female. 56.7% of patients reported with first parental cousin marriage, 26.7% with second, 6.7% with third and 10% with out of family parental marriages. Relation between consanguinity and KC was obtained with P< 0.05, showing the results were significant. Results showed that the patients whose parents had consanguinity of first degree were more susceptible to the disease and had more severe keratoconus than rest of the population. Conclusion:This study supports the hypothesis that a significant direct association between keratoconus and consanguinity persists. Results show, risk of Keratoconus development is much higher in parental consanguinity of first degree than other type of intermarriages. KC in such susceptible group was observed to be more progressive.
References
Wheeler J, Hauser MA, Afshari NA, Allingham RR, Liu Y. The genetics of keratoconus: a review. Microscopy (Oxford, England). 2012 Jun 3(Suppl 6).
Romero-Jiménez M, Santodomingo-Rubido J, Wolffsohn JS. Keratoconus: a review. Contact Lens and Anterior Eye. 2010 Aug 1;33(4):157-166.
Gordon-Shaag A, Millodot M, Essa M, Garth J, Ghara M, Shneor E. Is consanguinity a risk factor for keratoconus?. Optometry and Vision Science. 2013 May 1;90(5):448-454.
Gordon-Shaag A, Millodot M, Shneor E. The epidemiology and etiology of keratoconus. Epidemiology. 2012;70(1):7-15.
Kok YO, Tan GF, Loon SC. keratoconus in Asia. Cornea. 2012 May 1;31(5):581-593.
Jaber L, Halpern GJ, Shohat M. The impact of consanguinity worldwide. Public Health Genomics. 1998;1(1):12-17.
Ullah MA, Husseni AM, Mahmood SU. Consanguineous marriages and their detrimental outcomes in Pakistan: an urgent need for appropriate measures. Int J Community Med Public Health. 2017;5(1):1-3.
Nielsen K, Hjortdal J, Pihlmann M, Corydon TJ. Update on the keratoconus genetics. ActaOphthalmologica. 2013 Mar;91(2):106-113.
Jamali H, Beigi V, Sadeghi-Sarvestani A. Consanguineous marriage as a risk factor for developing keratoconus. Medical Hypothesis, Discovery and Innovation in Ophthalmology. 2018;7(1):17-21.
Zlotogora J, Shalev SA. The consequences of consanguinity on the rates of malformations and major medical conditions at birth and in early childhood in inbred populations. American Journal of Medical Genetics Part A. 2010 Aug;152(8):2023-2028.
Awwad ST, Yehia M, Mehanna CJ, Fattah MA, Saad A, Hatoum A, Al-Haddad C. Tomographic and refractive characteristics of pediatric first-degree relatives of keratoconus patients. American Journal of Ophthalmology. 2019 Nov 1;207:71-76.
Crawford AZ, Zhang J, Gokul A, McGhee CN, Ormonde SE. The enigma of environmental factors in keratoconus. The Asia-Pacific Journal of Ophthalmology. 2020 Nov 1;9(6):549-556
Thomas CI. The Cornea CC Thomas. Illinois: Springfield. 1955:233-244.
Graw J, Löster J. Developmental genetics in ophthalmology. Ophthalmic genetics. 2003 Jan 1;24(1):1-33.
Duke-Elder S. Disease of the outer eye. System of ophthalmology. 1966;8:893-903.
Jonas JB, Nangia V, Matin A, Kulkarni M, Bhojwani K. Prevalence and associations of keratoconus in rural maharashtra in central India: the central India eye and medical study.American journal of ophthalmology. 2009 Nov 1;148(5):760-765.
Waked N, Fayad AM, Fadlallah A, El Rami H. Keratoconus screening in a Lebanese students' population. Journal francaisd'ophtalmologie. 2011 Jun 29;35(1):23-29.
Assiri AA, Yousuf BI, Quantock AJ, Murphy PJ. Incidence and severity of keratoconus in Asir province, Saudi Arabia. British Journal of Ophthalmology. 2005 Nov 1;89(11):1403-1406.
Millodot M, Shneor E, Albou S, Atlani E, Gordon-Shaag A. Prevalence and associated factors of keratoconus in Jerusalem: a cross-sectional study. Ophthalmic epidemiology. 2011 Apr 1;18(2):91-97.
Tuft SJ, Hassan H, George S, Frazer DG, Willoughby CE, Liskova P. Keratoconus in 18 pairs of twins. Actaophthalmologica. 2012 Sep;90(6):e482-486.
Bisceglia L, De Bonis P, Pizzicoli C, Fischetti L, Laborante A, Di Perna M, Giuliani F, DelleNoci N, Buzzonetti L, Zelante L. Linkage analysis in keratoconus: replication of locus 5q21. 2 and identification of other suggestive Loci. Investigative ophthalmology & visual science. 2009 Mar 1;50(3):1081-1086.
Szczotka-Flynn L, Slaughter M, McMahon T, Barr J, Edrington T, Fink B, Lass J, Belin M, Iyengar SK, CLEK Study Group. Disease severity and family history in keratoconus. British journal of ophthalmology. 2008 Aug 1;92(8):1108-1111.
Naderan M, Rajabi MT, Zarrinbakhsh P, Naderan M, Bakhshi A. Association between family history and keratoconus severity. Current eye research. 2016 Nov 1;41(11):1414-1418.
Zadnik K, Barr JT, Edrington TB, Everett DF, Jameson M, McMahon TT, Shin JA, Sterling JL, Wagner H, Gordon MO. Baseline findings in the Collaborative Longitudinal Evaluation of Keratoconus (CLEK) Study. Investigative ophthalmology & visual science. 1998 Dec 1;39(13):2537-2546.
Shneor E, Millodot M, Blumberg S, Ortenberg I, Behrman S, Gordon‐Shaag A. Characteristics of 244 patients with keratoconus seen in an optometric contact lens practice. Clinical and Experimental Optometry. 2013 Mar;96(2):219-224.
Fink BA, Wagner H, Steger-May K, Rosenstiel C, Roediger T, McMahon TT, Gordon MO, Zadnik K, Collaborative Longitudinal Evaluation of Keratoconus (CLEK) Study Group. Differences in keratoconus as a function of gender. American journal of Ophthalmology. 2005 Sep 1;140(3):459-459.
Ertan A, Muftuoglu O. Keratoconus clinical findings according to different age and gender groups. Cornea. 2008 Dec 1;27(10):1109-1113.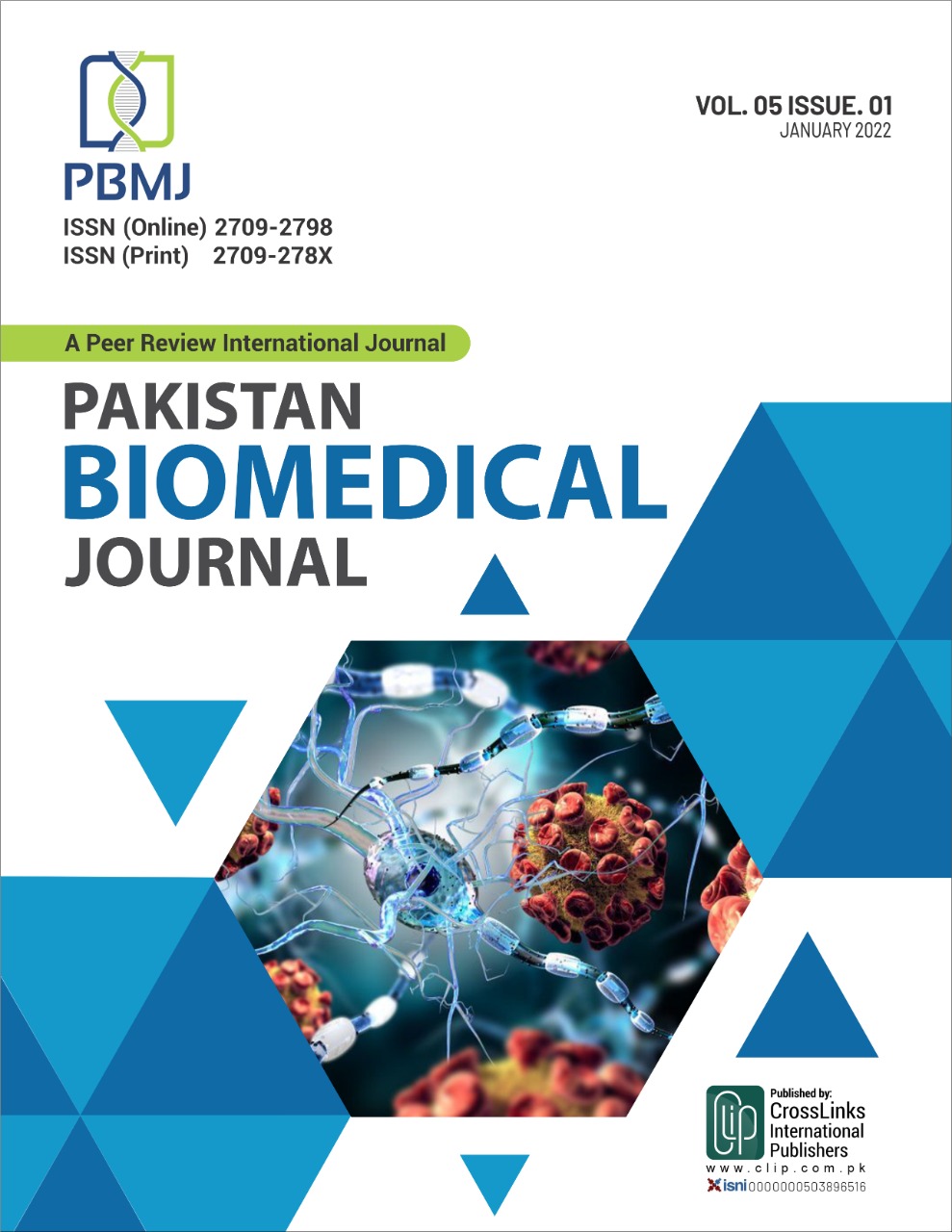 Downloads
CITATION
DOI: 10.54393/pbmj.v5i1.212
How to Cite
Awan, Z., Sharif, A. ., Awais, W. ., Rashid, R., Malik, S. ., Haidar, Z., & Faridi, T. anwar . (2022). Evaluating the Association of Keratoconus with Consanguinity: Association of Keratoconus with Consanguinity. Pakistan BioMedical Journal, 5(1), 138–142. https://doi.org/10.54393/pbmj.v5i1.212
License
Copyright (c) 2021 Pakistan BioMedical Journal
This work is licensed under a Creative Commons Attribution 4.0 International License.
This is an open-access journal and all the published articles / items are distributed under the terms of the Creative Commons Attribution License, which permits unrestricted use, distribution, and reproduction in any medium, provided the original author and source are credited. For comments editor@pakistanbmj.com