Comparative Effect of Muscle Energy Techniques and Mulligan Mobilization on Pain & Range of Motion in patients with Mechanical Neck Pain
Comparative Effect of Muscle Energy Techniques
Keywords:
Mechanical Neck Pain, Muscle Energy Techniques, Natural Apophyseal Glides, Neck Disability Index, Numeric Pain Rating Scale.
Abstract
Mechanical cervical pain starts at the back of the head and moves down the neck to the lower cervical spine and shoulders. Vertebral arrangements are interrupted with this condition, and the joints of the cervical spine and ribs perform abnormal biomechanical movements, resulting in diminished mobility and pain. Objective: To compare the effectiveness of   Muscle Energy Techniques (METs, Post-isometric relaxation) with Mulligan Mobilization (Natural Apophyseal Glides, NAGs) in subjects with Mechanical Neck Pain Methods: It was a Randomized Controlled Clinical Trial. Sixty patients are allocated in 2 groups: A and B with 30 patients in each group with age limit from 25-50 years treated for 4 weeks on alternate days with METs and Mulligan mobilization with baseline exercise plan respectively. Intervention plan was divided into 2 phases. Outcome measures used in this study are Numeric Pain Rating Scale (NPRS), Neck Disability Index (NDI) and Goniometer for Neck range of motions. Results: Patients in group B showed marked improvement as compared to group A. p-value less than 0.05 is considered significant. Mean age of patients for Group A was 39.91±8.14 and in Group B was 42.39±8.01 respectively. Conclusion: It is concluded from the study that Mulligan Mobilization was more effective as compared to METs in progressing NPRS and NDI scales.
References
Nitsure P, Welling A. Effect of gross myofascial release of upper limb and neck on pain and function in subjects with mechanical neck pain with upper limb radiculopathy: A clinical trial. Int J Dental Med Res. 2014;1(3):8-16.
Waqas S, Shah SHA, Zafar U, Akhtar MF. Comparison of Mulligan Sustained Natural Apophyseal Glides Versus Mulligan Natural Apophyseal Glides in Mechanical Neck Pain. Annals of King Edward Medical University. 2017;23(3).
Classification of chronic pain. Descriptions of chronic pain syndromes and definitions of pain terms. Prepared by the International Association for the Study of Pain, Subcommittee on Taxonomy. Pain Suppl. 1986;3:S1-226.
Gupta S, Jaiswal P, Chhabra D. A comparative study between postisometric relaxation and isometric exercises in non-specific neck pain. Journal of exercise science and physiotherapy. 2008;4(2):88-94.doi.org/10.18376//2012/v8i2/67588
Falla D, Jull G, Russell T, Vicenzino B, Hodges P. Effect of neck exercise on sitting posture in patients with chronic neck pain. Physical therapy. 2007;87(4):408-17. doi.org/10.2522/ptj.20060009
Genebra CVDS, Maciel NM, Bento TPF, Simeão SFAP, De Vitta A. Prevalence and factors associated with neck pain: a population-based study. Brazilian journal of physical therapy. 2017;21(4):274-80.doi.org/10.1016/j.bjpt.2017.05.005
Panjabi MM, Cholewicki J, Nibu K, Grauer J, Babat LB, Dvorak J. Critical load of the human cervical spine: an in vitro experimental study. Clinical biomechanics. 1998;13(1):11-7. doi.org/10.1016/S0268-0033(97)00057-0
Barton PM, Hayes KC. Neck flexor muscle strength, efficiency, and relaxation times in normal subjects and subjects with unilateral neck pain and headache. Archives of physical medicine and rehabilitation. 1996;77(7):680-7.doi.org/10.1016/S0003-9993(96)90008-8
Kirupa K, Mary SD, Nithyanisha R, Vaishnavi G, Pavithralochini V, Jaiganesh G. A comparative study of posture alteration and stretching program to reduce neck pain in teachers. Biomedicine. 2020;40(1):99-101.
Mahajan R, Kataria C, Bansal K. Comparative effectiveness of muscle energy technique and static stretching for treatment of subacute mechanical neck pain. Int J Health Rehabil Sci. 2012;1(1):16-21.doi.org/10.5455/ijhrs.00000004
Croft P. Diagnosing regional pain: the view from primary care. Best Practice & Research Clinical Rheumatology. 1999;13(2):231-42.doi.org/10.1053/berh.1999.0018.
O'Leary S, Falla D, Jull G. The relationship between superficial muscle activity during the cranio-cervical flexion test and clinical features in patients with chronic neck pain. Manual therapy. 2011;16(5):452-5.doi.org/10.1016/j.math.2011.02.008
Fryer G, Ruszkowski W. The influence of contraction duration in muscle energy technique applied to the atlanto-axial joint. Journal of osteopathic medicine. 2004;7(2):79-84. doi.org/10.1016/S1443-8461(04)80016-9
Exelby L. The Mulligan concept: its application in the management of spinal conditions. Manual therapy. 2002;7(2):64-70.doi.org/10.1054/math.2001.0435
Hussain SI, Ahmad A, Amjad F, Shafi T, Shahid HA. Effectiveness of natural apophyseal glides versus grade I and II Maitland mobilization in non specific neck pain. Annals of King Edward Medical University. 2016;22(1):23.doi.org/10.21649/akemu.v22i1.792
Gross A, Kay TM, Paquin JP, Blanchette S, Lalonde P, Christie T, et al. Exercises for mechanical neck disorders. Cochrane Database of Systematic Reviews. 2015;(1): doi.org/10.1002/14651858.CD004250.pub5
Hurley L, Yardley K, Gross A, Hendry L, McLaughlin L. A survey to examine attitudes and patterns of practice of physiotherapists who perform cervical spine manipulation. Manual Therapy. 2002;7(1):10-8.
Wibault J, Öberg B, Dedering Å, Löfgren H, Zsigmond P, Persson L, et al. Individual factors associated with neck disability in patients with cervical radiculopathy scheduled for surgery: a study on physical impairments, psychosocial factors, and life style habits. European spine journal. 2014;23(3):599-605.doi.org/10.1007/s00586-013-3066-0
Chaitow L, Crenshaw K. Muscle energy techniques: Elsevier Health Sciences; 2006.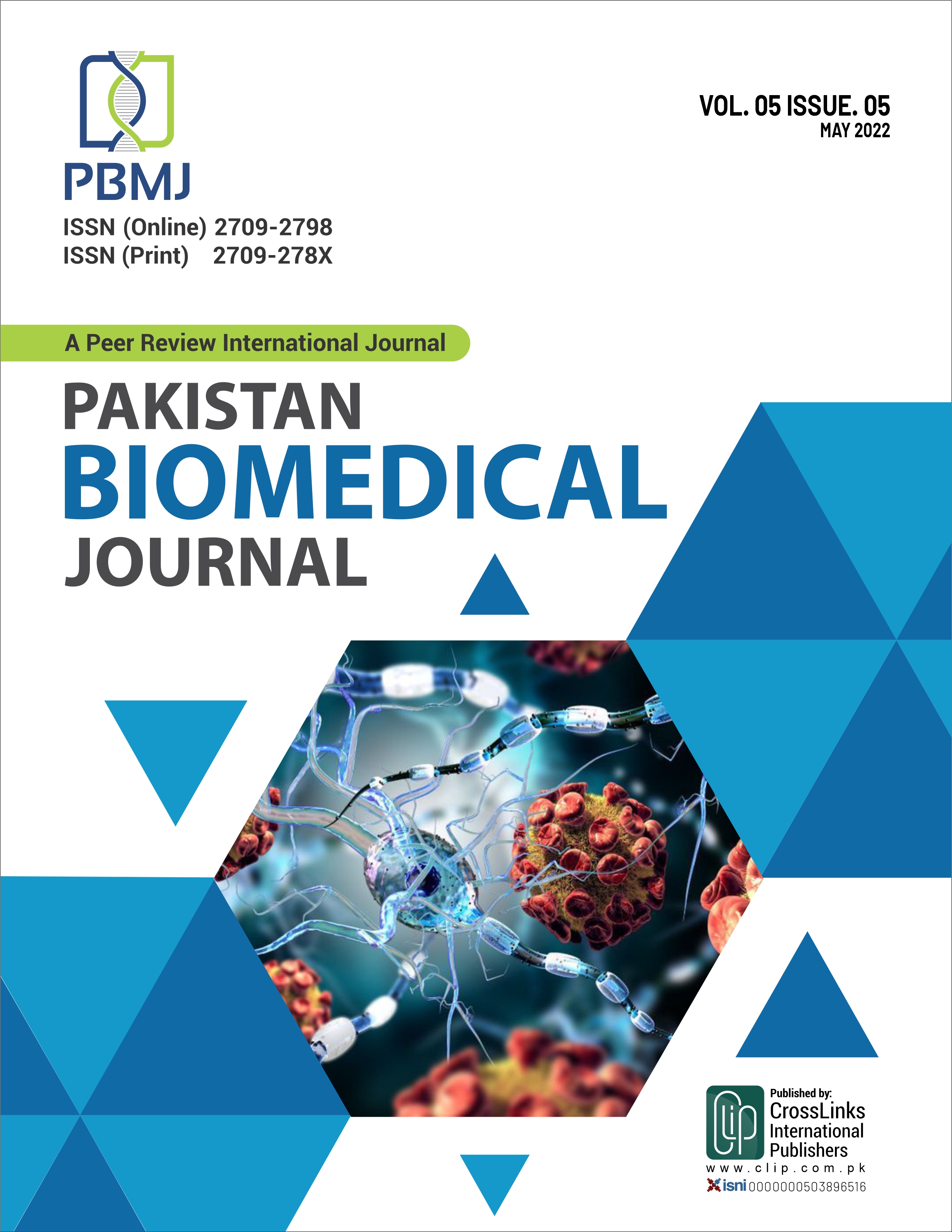 Downloads
CITATION
DOI: 10.54393/pbmj.v5i5.470
How to Cite
Jamil , U. ., Aslam , I., Maqbool , S. ., Qamar, S., Uzair Asghar , H. M., Tauqeer , A. ., Mobeen, A. ., & Iqbal , M. . (2022). Comparative Effect of Muscle Energy Techniques and Mulligan Mobilization on Pain & Range of Motion in patients with Mechanical Neck Pain: Comparative Effect of Muscle Energy Techniques. Pakistan BioMedical Journal, 5(5), 195–199. https://doi.org/10.54393/pbmj.v5i5.470
License
Copyright (c) 2022 Pakistan BioMedical Journal
This work is licensed under a Creative Commons Attribution 4.0 International License.
This is an open-access journal and all the published articles / items are distributed under the terms of the Creative Commons Attribution License, which permits unrestricted use, distribution, and reproduction in any medium, provided the original author and source are credited. For comments editor@pakistanbmj.com