Comparison of the Effectiveness of Pelvic Floor Muscle Exercises versus Pilates Exercises on Urinary Incontinence in Middle Aged Women". Randomized Controlled Trial. RCT
Effectiveness of Pelvic Floor Muscle Exercises and Pilates for Urinary Incontinence
Keywords:
Urinary incontinence, overweight, postpartum, BMI
Abstract
Often impacting elderly women, the urinary incontinence is defined as the involuntary urine loss. Objective: The purpose of this study was to see the comparative effectiveness of pelvic floor muscle exercise with pilates training for treatment of urinary incontinence. Methods: The study's 36 patients who met the eligibility requirements were accepted. Prior to conducting any examinations, we obtained written informed consents from each participant. Patients with urinary incontinence were divided randomly into two groups. In 'group A' pelvic floor muscle exercises were applied while in 'group B' pilates training was applied. Allocation of patients in two groups was done by computerised generated list. Both groups received conventional therapy, which was the same throughout the study. The conventional therapy includes adductor strengthening of thigh and hot pack for 15 minutes. Group A received conventional therapy and pelvic floor muscle exercise while group B received conventional therapy and pilates training. Treatment frequency was 2 times a week. The duration of treatment was 6 weeks in both groups. Each patient's informed consent was obtained before the questionnaire was filled out. Scores were derived using the Questionnaire for Female Urinary Incontinence Diagnosis (QUID) and the International Consultation on Incontinence Questionnaire (ICIQ). Results: Patients in group A significantly outperformed those in group B. Conclusion: According to the study's findings, strengthening the pelvic floor muscles is superior than practicing pilates for treating stress urine incontinence. Pelvic floor exercises not only improved the urine leakage problem but also strengthened the muscle of abdomen and pelvis. So these exercises programs should be included in treatment plans along with medications in public health care for the welfare of patients.
References
Ali SI, Tanwir F, Pervaiz S, Hanif H, Sajjad R, Pervaiz H, et al. Urinary Incontinence-Patient's Physical Mental and Oral Health Analysis. Pakistan Oral and Dental Journal. 2014 Sep; 34(3).
Dumoulin C, Glazener C, Jenkinson D. Determining the optimal pelvic floor muscle training regimen for women with stress urinary incontinence. Neurourology and Urodynamics. 2011 Jun; 30(5):746-53. doi: 10.1002/nau.21104.
Schiøtz HA, Karlsen JH, Tanbo TG. Ten-year follow-up after conservative treatment of stress urinary incontinence. International urogynecology journal and pelvic floor dysfunction. 2008 Jul; 19(7):911-5. doi: 10.1007/s00192-007-0550-2.
Dumoulin C, Hay‐Smith J, Habée‐Séguin GM, Mercier J. Pelvic floor muscle training versus no treatment, or inactive control treatments, for urinary incontinence in women: a short version Cochrane systematic review with meta‐analysis. Neurourology and urodynamics. 2015 Apr; 34(4):300-8.
Hay-Smith J, Herderschee R, Dumoulin C, Herbison P. Comparisons of approaches to pelvic floor muscle training for urinary incontinence in women: an abridged Cochrane systematic review. European Journal of Physical and Rehabilitation Medicine. 2012 Dec; 48(4):689-705.
Kılıç M. Incidence and risk factors of urinary incontinence in women visiting Family Health Centers. Springerplus. 2016 Aug; 5(1):1331. doi: 10.1186/s40064-016-2965-z.
Chiverton PA, Wells TJ, Brink CA, Mayer R. Psychological factors associated with urinary incontinence. Clinical Nurse Specialist. 1996 Sep; 10(5):229-33. doi: 10.1097/00002800-199609000-00007.
Grzeda MT, Heron J, von Gontard A, Joinson C. Effects of urinary incontinence on psychosocial outcomes in adolescence. European Child & Adolescent Psychiatry. 2017 Jun; 26(6):649-658. doi: 10.1007/s00787-016-0928-0.
Ross S, Soroka D, Karahalios A, Glazener CM, Hay-Smith EJ, Drutz HP. Incontinence-specific quality of life measures used in trials of treatments for female urinary incontinence: a systematic review. International urogynecology journal and pelvic floor dysfunction. 2006 May; 17(3):272-85. doi: 10.1007/s00192-005-1357-7.
Shamliyan TA, Kane RL, Wyman J, Wilt TJ. Systematic review: randomized, controlled trials of nonsurgical treatments for urinary incontinence in women. Annals of Internal Medicine. 2008 Mar; 148(6):459-73. doi: 10.7326/0003-4819-148-6-200803180-00211.
Hagen S, Glazener C, McClurg D, Macarthur C, Elders A, Herbison P, et al. Pelvic floor muscle training for secondary prevention of pelvic organ prolapse (PREVPROL): a multicentre randomised controlled trial. Lancet. 2017 Jan; 389(10067):393-402. doi: 10.1016/S0140-6736(16)32109-2.
Borello-France DF, Downey PA, Zyczynski HM, Rause CR. Continence and quality-of-life outcomes 6 months following an intensive pelvic-floor muscle exercise program for female stress urinary incontinence: a randomized trial comparing low- and high-frequency maintenance exercise. Physical Therapy. 2008 Dec; 88(12):1545-53. doi: 10.2522/ptj.20070257.
Johannessen HH, Wibe A, Stordahl A, Sandvik L, Mørkved S. Do pelvic floor muscle exercises reduce postpartum anal incontinence? A randomised controlled trial. BJOG. 2017 Mar; 124(4):686-694. doi: 10.1111/1471-0528.14145.
Shafik A, Shafik IA. Overactive bladder inhibition in response to pelvic floor muscle exercises. World Journal of Urology. 2003 May; 20(6):374-7. doi: 10.1007/s00345-002-0309-9.
Penelope L. Updating the principles of the Pilates method—Part 2. Journal of Bodywork & Movement Therapies. 2002; 2(6):94-101.
Latey P. The Pilates method: history and philosophy. Journal of bodywork and movement therapies. 2001 Oct; 5(4):275-82.
Bø K, Bratland‐Sanda S, Sundgot‐Borgen J. Urinary incontinence among group fitness instructors including yoga and pilates teachers. Neurourology and urodynamics. 2011 Mar; 30(3):370-3.
Bø K, Herbert RD. There is not yet strong evidence that exercise regimens other than pelvic floor muscle training can reduce stress urinary incontinence in women: a systematic review. Journal of physiotherapy. 2013 Sep; 59(3):159-68.
Lausen A, Marsland L, Head S, Jackson J, Lausen B. Modified Pilates as an adjunct to standard physiotherapy care for urinary incontinence: a mixed methods pilot for a randomised controlled trial. BMC Womens Health. 2018 Jan; 18(1):16. doi: 10.1186/s12905-017-0503-y.
Culligan PJ, Scherer J, Dyer K, Priestley JL, Guingon-White G, Delvecchio D, et al. A randomized clinical trial comparing pelvic floor muscle training to a Pilates exercise program for improving pelvic muscle strength. International Urogynecology Journal. 2010 Apr; 21(4):401-8. doi: 10.1007/s00192-009-1046-z.
Brubaker L, Shott S, Tomezsko J, Goldberg RP. Pelvic floor fitness using lay instructors. Obstet Gynecol. 2008 Jun; 111(6):1298-304. doi: 10.1097/AOG.0b013e3181742d98.
Brostrøm S, Lose G. Pelvic floor muscle training in the prevention and treatment of urinary incontinence in women–what is the evidence?. Acta obstetricia et gynecologica Scandinavica. 2008 Apr; 87(4):384-402.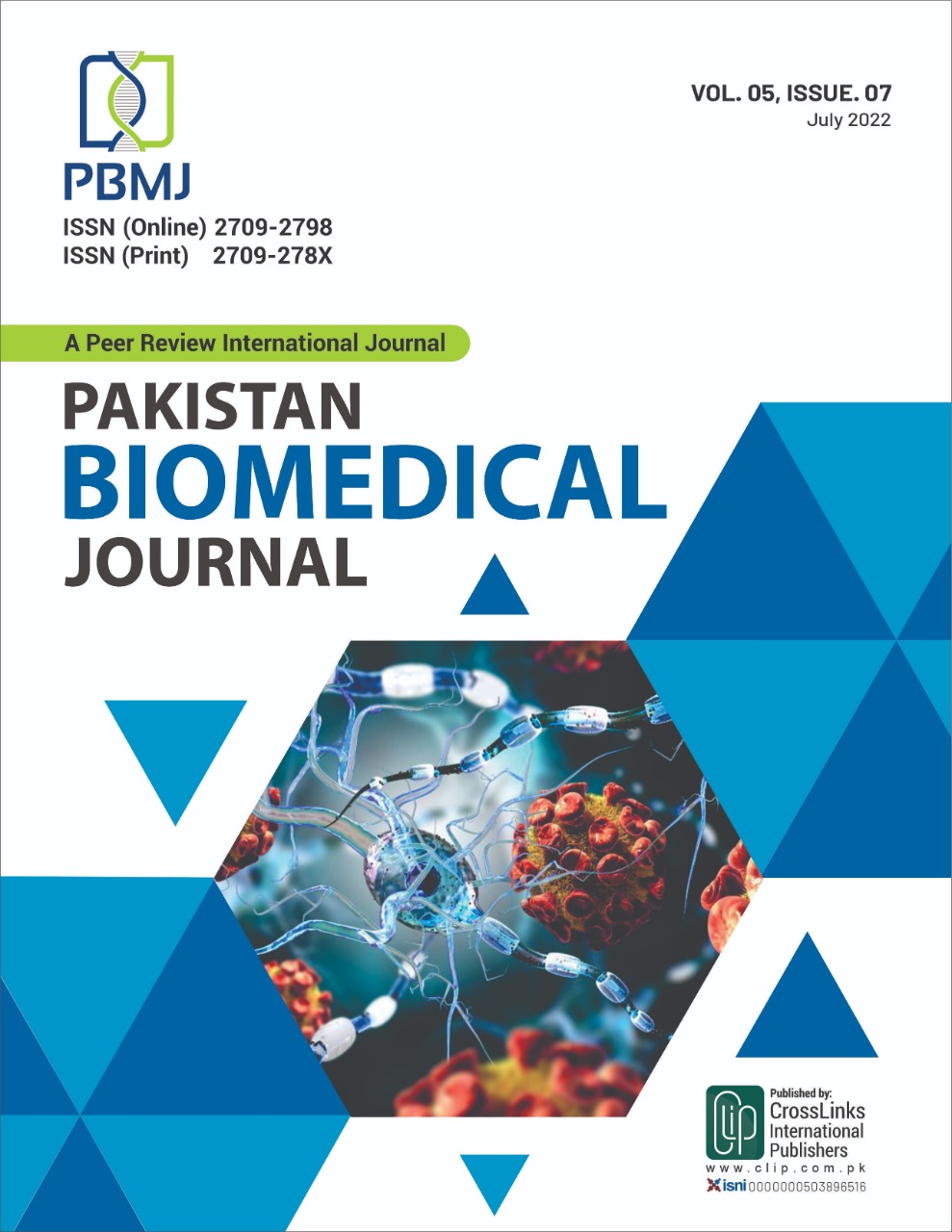 Downloads
How to Cite
Khurshid , S. ., Fatima Murtaza, S. ., Fatimah, A. ., Uzair Asghar, H. M. ., Maqbool, S. ., Nasreen, A. ., Saeed, S. ., & Mushtaq , Q. . (2022). Comparison of the Effectiveness of Pelvic Floor Muscle Exercises versus Pilates Exercises on Urinary Incontinence in Middle Aged Women". Randomized Controlled Trial. RCT: Effectiveness of Pelvic Floor Muscle Exercises and Pilates for Urinary Incontinence. Pakistan BioMedical Journal, 5(7), 227–230. https://doi.org/10.54393/pbmj.v5i7.653
License
Copyright (c) 2022 Pakistan BioMedical Journal
This work is licensed under a Creative Commons Attribution 4.0 International License.
This is an open-access journal and all the published articles / items are distributed under the terms of the Creative Commons Attribution License, which permits unrestricted use, distribution, and reproduction in any medium, provided the original author and source are credited. For comments editor@pakistanbmj.com