Pain Catastrophizing in Adult Females After Bilateral Total Knee Arthroplasty
Adult Females After Bilateral Total Knee Arthroplasty
Keywords:
Pain catastrophizing, bilateral Total Knee Arthroplasty, Pain Catastrophizing Scale (PCS).
Abstract
Total Knee Arthroplasty is a procedure used to ease the pain and improve functions after degenerative joint diseases e.g. osteoarthritis. One of the complications of TKA is pain catastrophization. Pain catastrophizing is a characterized by the tendency to magnify the threat value of pain stimulus. It can be assessed through PCS which is a 13-item standardized tool for assessing pain catastrophizing. Primary objective of the study was to find the pain catastrophizing level in adult females after bilateral Total Knee Replacement. Objective: This study aims to highlight the importance of pain catastrophization in females who have undergone TKA so that it will alert the rehabilitation experts to plan the post-operative management keeping in view respective levels of pain catastrophization. Methods: This was a descriptive case series study in which 30 patients were included in study according to inclusion and exclusion criteria according to non-probability convenience sampling. All females were included in the study with same baseline characteristics. Literature was reviewed for the given study from EMBASE, MEDLINE AND PsycINFO. Questionnaire included in the study was PCS. Results: The statistical result of Rumination with the mean of 11.63, Magnification score with the mean of 1.98 and Helplessness score with the mean of 12.13 was obtained. Total mean score of pain catastrophizing was 29.500 and SD ±6.273. Conclusion: Pain catastrophizing after bilateral TKR is one major complications in females. That resulted in score of 40% Rumination, 19% Magnification and 41% Helplessness.
References
Losina E, Paltiel AD, Weinstein AM, Yelin E, Hunter DJ, Chen SP, et al. Lifetime medical costs of knee osteoarthritis management in the United States: impact of extending indications for total knee arthroplasty. Arthritis care & research. (Hoboken). 2015 Feb; 67(2):203-15. doi: 10.1002/acr.22412.
Cram P, Lu X, Kates SL, Singh JA, Li Y, Wolf BR. Total knee arthroplasty volume, utilization, and outcomes among Medicare beneficiaries, 1991-2010. Journal of the American Medical Association 2012 Sep; 308(12):1227-36. doi: 10.1001/2012.jama.11153.
Kurtz SM, Ong KL, Schmier J, Mowat F, Saleh K, Dybvik E, et al. Future clinical and economic impact of revision total hip and knee arthroplasty. The Journal of Bone and Joint Surgery. 2007 Oct; 89 Suppl 3:144-51. doi: 10.2106/JBJS.G.00587.
Shahzada MS, Ahmed HI, Asim HM, Afzal F. Effects of Early Knee Bending Exercises on Functional Outcomes after Primary Total Knee Arthroplasty. International journal of medicine and Applied health. 2017; 5(1): 15-22.
Lin H, Xu A, Wu H, Xu H, Lu Y, Yang H. Effect of Proprioception and Balance Training Combined with Continuous Nursing on BBS Score and HSS Score of Patients Undergoing Total Knee Arthroplasty. Computational and Mathematical Methods in Medicine. 2022 Jul; 2022:7074525. doi: 10.1155/2022/7074525.
Petersen KK, Arendt-Nielsen L. Chronic postoperative pain after joint replacement. Pain. Clinical Updates. 2016; 24(3).
Quartana PJ, Campbell CM, Edwards RR. Pain catastrophizing: a critical review. Expert review of neurotherapeutics. 2009 May;9(5):745-58. doi: 10.1586/ern.09.34.
Sullivan MJ. The pain catastrophizing scale: user manual. Montreal: McGill University. 2009 Jan; 1:36.
Baert IA, Lluch E, Mulder T, Nijs J, Noten S, Meeus M. Does pre-surgical central modulation of pain influence outcome after total knee replacement? A systematic review. Osteoarthritis and cartilage. 2016 Feb; 24(2):213-23. doi: 10.1016/j.joca.2015.09.002.
Vissers MM, Bussmann JB, Verhaar JAN, Busschbach JJV, Bierma-Zeinstra SMA, Reijman M. Psychological Factors Affecting the Outcome of Total Hip and Knee Arthroplasty: A Systematic Review. Seminars in Arthritis and Rheumatism. 2012 Feb; 41(4):576-88. doi: 10.1016/j.semarthrit.2011.07.003.
Wylde V, Sayers A, Lenguerrand E, Gooberman-Hill R, Pyke M, Beswick AD, et al. Pre operative widespread pain sensitization and cronic pain after hip and knee replacement: a cohort analysis. 2015 Jan; 156(1):47-54. doi: 10.1016/j.pain.0000000000000002.
Burns LC, Ritvo SE, Ferguson MK, Clarke H, Seltzer ZE, Katz J. Pain catastrophizing as a risk factor for chronic pain after total knee arthroplasty: a systematic review. Journal of pain research. 2015; 8:21.
Ikemoto T, Miyagawa H, Shiro Y, Arai Y-CP, Akao M, Murotani K, et al. relationship between biological factors and catastrophizing and clinical outcomes for female patients with knee osteoarthritis. World journal of orthopedics. 2017 Mar; 8(3):278-285. doi: 10.5312/wjo. v8. i3.278.
Dave AJ, Selzer F, Losina E, Klara KM, Collins JE, Usiskin I, et al. Is there an association between whole-body pain with osteoarthritis-related knee pain, pain catastrophizing, and mental health? Clinical Orthopaedics and Related Research. 2015 Dec; 473(12):3894-902. doi: 10.1007/s11999-015-4575-4.
Rajamäki T. Risk Factors for Persistent Pain and Analgesic Use Following Hip and Knee Replacement. 2022.
Edwards RR, Campbell C, Schreiber KL, Meints S, Lazaridou A, Martel MO, et al. Multimodal prediction of pain and functional outcomes 6 months following total knee replacement: a prospective cohort study. BMC Musculoskeletal Disorders. 2022 Mar; 23(1):302. doi: 10.1186/s12891-022-05239-3.
Rayahin JE, Chmiel JS, Hayes KW, Almagor O, Belisle L, Chang AH, et al. Factors associated with pain experience outcome in knee osteoarthritis. Arthritis care & research (Hoboken). 2014 Dec; 66(12):1828-35. doi: 10.1002/acr.22402.
Nwankwo VC, Jiranek WA, Green CL, Allen KD, George SZ, Bettger JP. Resilience and pain catastrophizing among patients with total knee arthroplasty: a cohort study to examine psychological constructs as predictors of post-operative outcomes. Health and quality of life outcomes. 2021 May; 19(1):136. doi: 10.1186/s12955-021-01772-2.
Speed TJ, Jung Mun C, Smith MT, Khanuja HS, Sterling RS, Letzen JE, et al. Temporal Association of Pain Catastrophizing and Pain Severity Across the Perioperative Period: A Cross-Lagged Panel Analysis After Total Knee Arthroplasty. Pain Medicine. 2021 Aug; 22(8):1727-1734. doi: 10.1093/pm/pnab035.
Fillingham YA, Hanson TM, Leinweber KA, Lucas AP, Jevsevar DS. Generalized anxiety disorder: a modifiable risk factor for pain catastrophizing after total joint arthroplasty. The Journal of arthroplasty. 2021 Jul; 36(7S): S179-S183. doi: 10.1016/j.arth.2021.02.023.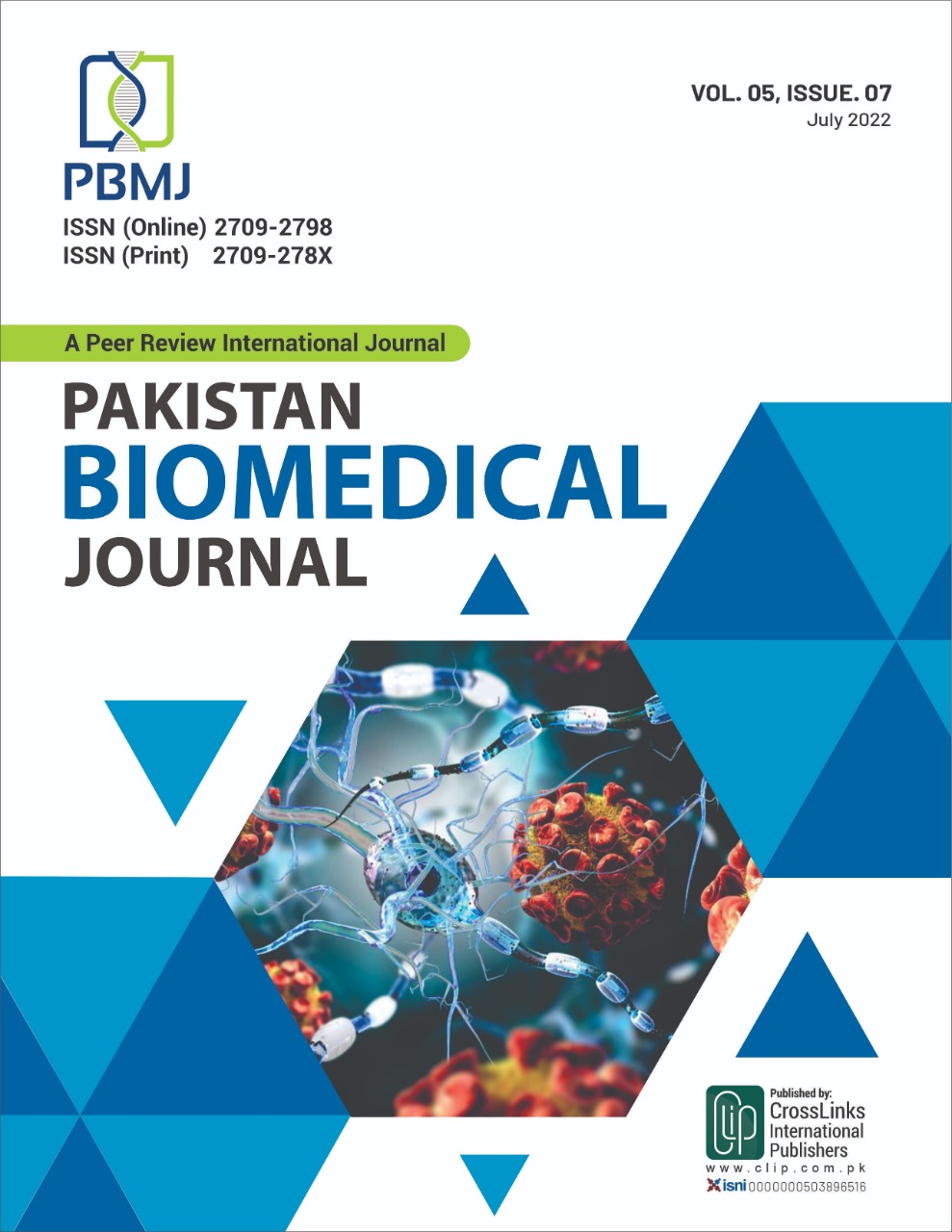 Downloads
How to Cite
Sharif, M. ., Nouman Tabassum , M. ., Maqbool, S. ., Uzair Asghar, H. M. ., Naveed, M. ., Shamshad , E. ., Naeem Atta, M. ., & Niaz, I. . (2022). Pain Catastrophizing in Adult Females After Bilateral Total Knee Arthroplasty: Adult Females After Bilateral Total Knee Arthroplasty. Pakistan BioMedical Journal, 5(7), 117–120. https://doi.org/10.54393/pbmj.v5i7.640
License
Copyright (c) 2022 Pakistan BioMedical Journal
This work is licensed under a Creative Commons Attribution 4.0 International License.
This is an open-access journal and all the published articles / items are distributed under the terms of the Creative Commons Attribution License, which permits unrestricted use, distribution, and reproduction in any medium, provided the original author and source are credited. For comments editor@pakistanbmj.com