Comparison of Effectiveness of Movement with Mobilization and Muscle Energy Technique in reducing Pain and improving Functional Status in patients with Frozen Shoulder
Technique Effectiveness in Patients with Frozen Shoulder
Keywords:
Adhesive Capsulitis, Movement with Mobilization, Muscle Energy Technique
Abstract
Adhesive capsulitis, "popularly is a condition with an unclear etiology known as Frozen Shoulder (FS)". This disorder limits the range of motion of the shoulder joint. Objective: To compare the effectiveness of movement with mobilization and muscle energy technique (METs) in reducing pain and improving functional status in patients with frozen shoulder Methods: Study was conducted at Department of Physiotherapy, Mayo Hospital Lahore after obtaining the consent from 36 patients. Patients were divided into Two groups. For two weeks, Group 1 received Movement with Mobilization Protest movements (MMM) while Group 2 received METs. The data was processed into SPSS and evaluated using the Independent Sample t test and Paired Sample t test. Results: The outcome assessment instruments, "goniometer for ROM" and "shoulder pain, and disability index," revealed that "Motion by Mobility is more effective than Muscle Energy Technique in increasing ROM and operational condition" of the patient having frozen shoulder. Conclusions: There was a considerable improvement in pain and ROM from pre-treatment levels in both the study groups. Whereas "Movement with Mobilization is more effective than Muscle Energy Technique" in alleviating pain, enhancing range of motion, and enhancing functional capacity in "patients with shoulder pain."
References
Rookmoneea M, Dennis L, Brealey S, Rangan A, White B, McDaid C et al. The effectiveness of interventions in the management of patients with primary frozen shoulder. J Bone Joint Surg Br. 2010 Sep;92(9):1267-72. doi: 10.1302/0301-620X.92B9.24282.
Kelley MJ, McClure PW, Leggin BG. Frozen shoulder: evidence and a proposed model guiding rehabilitation. J Orthop Sports Phys Ther. 2009 Feb;39(2):135-48. doi: 10.2519/jospt.2009.2916.
Brue S, Valentin A, Forssblad M, Werner S, Mikkelsen C, Cerulli G. Idiopathic adhesive capsulitis of the shoulder: a review. Knee Surg Sports Traumatol Arthrosc. 2007 Aug;15(8):1048-54. doi: 10.1007/s00167-007-0291-2.
Cleland J, Durall CJ. Physical therapy for adhesive capsulitis: systematic review. Physiotherapy. 2002;88(8):450-7. doi.org/10.1016/S0031-9406(05)60847-4.
Bal A, Eksioglu E, Gulec B, Aydog E, Gurcay E, Cakci A. Effectiveness of corticosteroid injection in adhesive capsulitis. Clinical Rehabilitation. 2008;22(6):503-12. doi.org/10.1177/0269215508086179.
Bussières AE, Peterson C, Taylor JA. Diagnostic imaging guideline for musculoskeletal complaints in adults-an evidence-based approach-part 2: upper extremity disorders. J Manipulative Physiol Ther. 2008 Jan;31(1):2-32. doi: 10.1016/j.jmpt.2007.11.002.
Gaspar PD, Willis FB. Adhesive capsulitis and dynamic splinting: a controlled, cohort study. BMC Musculoskelet Disord. 2009 Sep 7;10:111. doi: 10.1186/1471-2474-10-111.
Boyles RE, Flynn TW, Whitman JM. Manipulation following regional interscalene anesthetic block for shoulder adhesive capsulitis: a case series. Manual therapy. 2005 Feb 1;10(1):80-7. DOI: 10.1016/j.math.2004.05.002.
Poser A, Casonato O. Posterior glenohumeral stiffness: capsular or muscular problem? A case report. Manual therapy. 2008;13(2):165-70. DOI: 10.1016/j.math.2007.07.002.
Doner G, Guven Z, Atalay A, Celiker R. Evalution of Mulligan's technique for adhesive capsulitis of the shoulder. J Rehabil Med. 2013 Jan;45(1):87-91. doi: 10.2340/16501977-1064.
Green S, Buchbinder R, Hetrick S. Physiotherapy interventions for shoulder pain. Cochrane Database Syst Rev. 2003;2003(2):CD004258. doi: 10.1002/14651858.CD004258.
Suri SA, Anand M. Comparative study on the effectiveness of Maitland mobilization technique versus muscle energy technique in treatment of shoulder adhesive capsulitis. Indian Journal of Physiotherapy & Occupational Therapy-An International Journal. 2013;7(4):1-6.
Kumar A. A comparative study on the efficacy of Movement with Mobilization's Mobilization and muscle energy technique on frozen shoulder. Website: www ijpot com. 2015;9(4):39. DOI: 10.5958/0973-5674.2015.00143.4.
van der Windt DA, Koes BW, Devillé W, Boeke AJ, de Jong BA, Bouter LM. Effectiveness of corticosteroid injections versus physiotherapy for treatment of painful stiff shoulder in primary care: randomised trial. BMJ. 1998 Nov 7;317(7168):1292-6. doi: 10.1136/bmj.317.7168.1292.
Vermeulen HM, Rozing PM, Obermann WR, le Cessie S, Vliet Vlieland TP. Comparison of high-grade and low-grade mobilization techniques in the management of adhesive capsulitis of the shoulder: randomized controlled trial. Phys Ther. 2006 Mar;86(3):355-68.
Vermeulen HM, Stokdijk M, Eilers PH, Meskers CG, Rozing PM, Vliet Vlieland TP. Measurement of three dimensional shoulder movement patterns with an electromagnetic tracking device in patients with a frozen shoulder. Ann Rheum Dis. 2002 Feb;61(2):115-20. doi: 10.1136/ard.61.2.115.
Warner JJ, Allen A, Marks PH, Wong P. Arthroscopic release for chronic, refractory adhesive capsulitis of the shoulder. J Bone Joint Surg Am. 1996 Dec;78(12):1808-16. doi: 10.2106/00004623-199612000-00003.
Woo SL, Buckwalter JA. AAOS/NIH/ORS workshop. Injury and repair of the musculoskeletal soft tissues. Savannah, Georgia, June 18-20, 1987. J Orthop Res. 1988;6(6):907-31. doi: 10.1002/jor.1100060615.
Zuckerman JD, Rokito A. Frozen shoulder: a consensus definition. J Shoulder Elbow Surg. 2011 Mar;20(2):322-5. doi: 10.1016/j.jse.2010.07.008.
Yang JL, Chang CW, Chen SY, Wang SF, Lin JJ. Mobilization techniques in subjects with frozen shoulder syndrome: randomized multiple-treatment trial. Physical therapy. 2007 Oct 1;87(10):1307-15. doi.org/10.2522/ptj.20060295.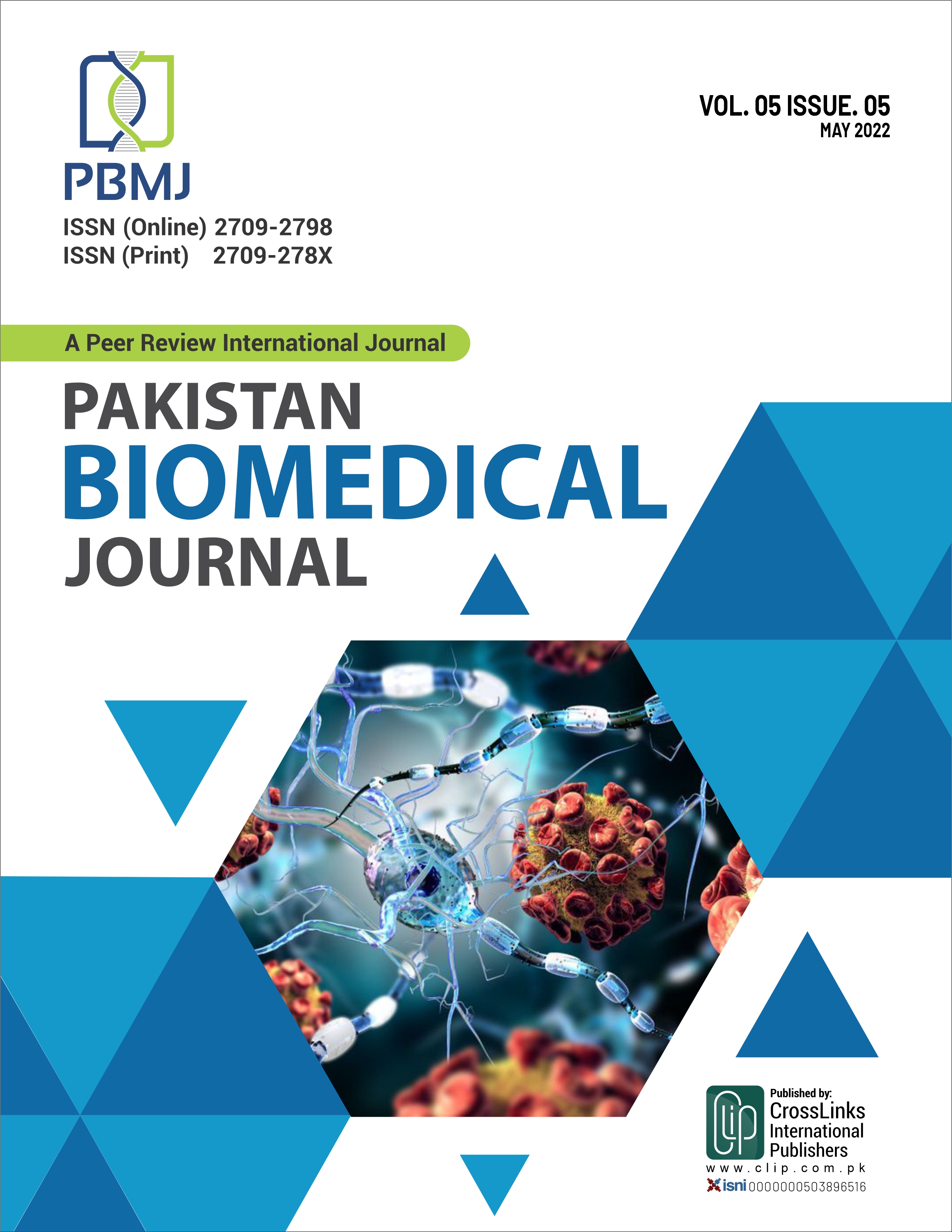 Downloads
How to Cite
Ghaffar Awan, N. ., Rehman, F. ur, Asma, ., Bilal, H., Azfar, H. ., Arif, R. ., & Muhammad Arslan, H. R. . (2022). Comparison of Effectiveness of Movement with Mobilization and Muscle Energy Technique in reducing Pain and improving Functional Status in patients with Frozen Shoulder: Technique Effectiveness in Patients with Frozen Shoulder. Pakistan BioMedical Journal, 5(5), 216–219. https://doi.org/10.54393/pbmj.v5i5.474
License
Copyright (c) 2022 Pakistan BioMedical Journal
This work is licensed under a Creative Commons Attribution 4.0 International License.
This is an open-access journal and all the published articles / items are distributed under the terms of the Creative Commons Attribution License, which permits unrestricted use, distribution, and reproduction in any medium, provided the original author and source are credited. For comments editor@pakistanbmj.com