Patient Satisfaction with Manual Physical Therapy Care
Balance Training and Coordination Exercises for Post Hemiplegic Stroke.
Keywords:
Patient satisfaction, Musculoskeletal care, Manual therapy care
Abstract
Patient centered approach is the cornerstone in health care facility. Therefore, patient satisfaction is of utmost importance. Factors related to satisfaction of patient in connection with manual therapy practice are not evaluated. Objective: The purpose of this survey was to evaluate satisfaction of patient receiving manual therapy for their musculoskeletal disorders in Ali Hospital Lahore, Pakistan. Methods: A retrospective survey of 82 male and female patients in the range of 18 and above years was conducted in 2021 for the patient who had availed the services from Ali Hospital. These patients were recruited through simple random sampling only to refrain from biasness. Patients were enrolled according to inclusion and exclusion criteria. Results: In current study, among 82 patients almost 31 will undoubtedly and 31 will most likely suggest manual therapy treatment to people close to them. While the remaining 20 participants did not show any interest of suggesting this therapy.  37.80% participants showed more satisfaction towards manual therapy treatment and close association found between patient satisfaction and experience of physical therapist. Patients showed higher level of satisfaction when treatment was done by experienced skilled Physical Therapist. Conclusion: Current study reveals that there is higher customer satisfaction from the skill of Physical Therapist but the follow up exercise plan at home is considered worthless by the recipient. Manual therapy provides more relish. Similarly, the results demonstrate that female recipients are more satisfied from physical therapy in this scenario as compared to males.
References
Rossettini G, Latini TM, Palese A, Jack SM, Ristori D, Gonzatto S, et al. Determinants of patient satisfaction in outpatient musculoskeletal physiotherapy: a systematic, qualitative meta-summary, and meta-synthesis. Disability and Rehabilitation. 2020 Feb; 42(4):460-472. doi: 10.1080/09638288.2018.1501102.
Ahmad M, Khan A, Qasim N, Ahmad B. Patient Satisfaction and Level of Functional Mobility after Physical Therapy Intervention of Chronic Neck Pain among Office Workers. Pakistan Journal of Physical Therapy (PJPT). 2021 Oct.
Algudairi G, Al-Eisa ES, Alghadir AH, Iqbal ZA. Patient satisfaction with outpatient physical therapy in Saudi Arabia. BMC Health Services Research. 2018 Nov; 18(1):888. doi: 10.1186/s12913-018-3646-0.
Osei OG, Tieru DE, Omoniyi MM. Determinants of patients' satisfaction with musculoskeletal dysfunction and stroke physiotherapy health care: community-based evidence. African Journal of Health Sciences. 2020; 33(4):44-55.
Odumodu IJ, Olufunlayo TF, Ogunnowo BE, Kalu ME. Satisfaction With Services Among Attendees of Physiotherapy Outpatient Clinics in Tertiary Hospitals in Lagos State. Journal of Patient Experience. 2020 Aug; 7(4):468-478. doi: 10.1177/2374373519847370.
Forbes DR, Nolan D. Factors associated with patient-satisfaction in student-led physiotherapy clinics: A qualitative study. Physiotherapy Theory and Practice. 2018 Sep; 34(9):705-713. doi: 10.1080/09593985.2018.1423592. Epub 2018 Jan 8.
Tennakoon T, de Zoysa P. Patient satisfaction with physiotherapy services in an Asian country: A report from Sri Lanka. Hong Kong Physiotherapy Journal. 2014 Dec; 32(2):79-85. Doi: 10.1016/j.hkpj.2014.07.001.
De Paula DAG, Piatti NCTP, Costa LM, Chiavegato LD. Satisfaction levels with physical therapy in hospitalized patients. Brazilian Journal of Physical Therapy. 2020 Apr; 24(2):118-123. doi: 10.1016/j.bjpt.2019.02.012.
Chi-Lun-Chiao A, Chehata M, Broeker K, Gates B, Ledbetter L, et al. Patients' perceptions with musculoskeletal disorders regarding their experience with healthcare providers and health services: an overview of reviews. Archives of Physiotherapy. 2020 Sep; 10:17. doi: 10.1186/s40945-020-00088-6.
Hush JM, Lee H, Yung V, Adams R, Mackey M, Wand BM, et al. Intercultural comparison of patient satisfaction with physiotherapy care in Australia and Korea: an exploratory factor analysis. Journal of Manual & Manipulative Therapy. 2013 May; 21(2):103-12. doi: 10.1179/2042618613Y.0000000030.
Voutilainen A, Pitkäaho T, Vehviläinen-Julkunen K, Sherwood PR. Meta-analysis: methodological confounders in measuring patient satisfaction. Journal of Research in Nursing. 2015 Dec; 20(8):698-714.
Keramat KU, Bhutta AH, Ilyas MB. Patients' Satisfaction with Physiotherapy Services for Musculoskeletal Disorder. Pakistan Journal of Public Health. 2020; 10(3):174-8.
Oakley C, Shacklady C. The Clinical Effectiveness of the Extended-Scope Physiotherapist Role in Musculoskeletal Triage: A Systematic Review. Musculoskeletal Care. 2015 Dec; 13(4):204-21. doi: 10.1002/msc.1100
Harding P, Prescott J, Block L, O'Flynn AM, Burge AT. Patient experience of expanded-scope-of-practice musculoskeletal physiotherapy in the emergency department: a qualitative study. Australian Health Review. 2015 Jun; 39(3):283-289. doi: 10.1071/AH14207.
Bird S, Thompson C, Williams KE. Primary contact physiotherapy services reduce waiting and treatment times for patients presenting with musculoskeletal conditions in Australian emergency departments: an observational study. Journal of Physiotherapy. 2016 Oct; 62(4):209-14. doi: 10.1016/j.jphys.2016.08.005.
Desjardins-Charbonneau A, Roy JS, Thibault J, Ciccone VT, Desmeules F. Acceptability of physiotherapists as primary care practitioners and advanced practice physiotherapists for care of patients with musculoskeletal disorders: a survey of a university community within the province of Quebec. BMC Musculoskeletal Disorder. 2016 Sep; 17(1):400. doi: 10.1186/s12891-016-1256-8.
Peshawar; a cross sectional survey. Rehman Journal of Health Sciences (HEC recognised). 2019; 1(1):12-6.
Hush JM, Cameron K, Mackey M. Patient satisfaction with musculoskeletal physical therapy care: a systematic review. Physical therapy. 2011 Jan; 91(1):25-36.
Biering P, Becker H, Calvin A, Grobe SJ. Casting light on the concept of patient satisfaction by studying the construct validity and the sensitivity of a questionnaire. International Journal of Health Care Quality Assurance. 2006; 19(2-3):246-58. doi: 10.1108/09526860610661464.
Camacho FT, Feldman SR, Balkrishnan R, Kong MC, Anderson RT. Validation and reliability of 2 specialty care satisfaction scales. American Journal of Medical Quality. 2009 Feb; 24(1):12-8. doi: 10.1177/1062860608326416.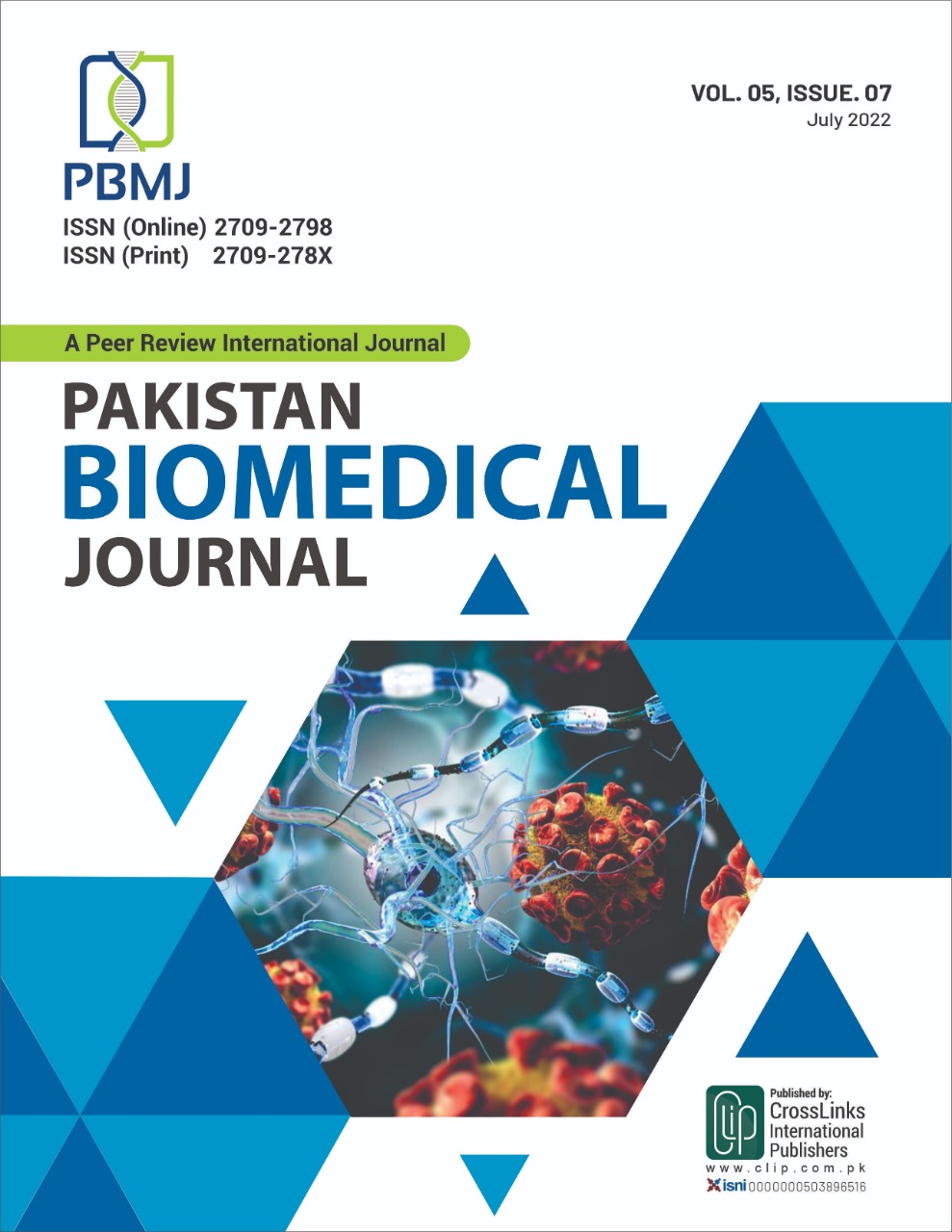 Downloads
How to Cite
Faizan, S. M. ., Afzal, S. ., Neelam Muneeb, H. ., Sarfraz, K. ., Ali, H. ., Haq, K. ., Faizan Hamid, M. ., & Muhammad Arslan, H. R. . (2022). Patient Satisfaction with Manual Physical Therapy Care: Balance Training and Coordination Exercises for Post Hemiplegic Stroke. Pakistan BioMedical Journal, 5(7), 85–88. https://doi.org/10.54393/pbmj.v5i7.630
License
Copyright (c) 2022 Pakistan BioMedical Journal
This work is licensed under a Creative Commons Attribution 4.0 International License.
This is an open-access journal and all the published articles / items are distributed under the terms of the Creative Commons Attribution License, which permits unrestricted use, distribution, and reproduction in any medium, provided the original author and source are credited. For comments editor@pakistanbmj.com