Effects Of High Intensity Aerobics and Pelvic Clock Exercises in Primary Dysmenorrhea
High Intensity Aerobics and Pelvic Clock Exercises in Primary Dysmenorrhea
Keywords:
High intensity Aerobics, Pelvic clock Exercises, Dysmenorrhea, Menstruation
Abstract
Dysmenorrhea is very unpleasant sensation with the presence of painful cramps of uterine origin that occur during menstruation. Prevalence rate of dysmenorrhea is 50% in females' population. Evidence tells that inactive lifestyle as well as poor diet is main reason of primary dysmenorrheal as well as women who exercise have a reduced incidence of dysmenorrhea. Objectives: To find the effectiveness of high intensity aerobics and pelvic clock exercises in primary dysmenorrhea. Methods: The study design was randomized control trials. Purposive sampling technique was used. Girls aged 17–24 years with regular menstrual cycle and unmarried girls were included. Athletes, married women with gynecological abnormalities were excluded. A structured 8 weeks' program (3 days in a week, 1hour per day) was given to Group A including set of London bridges (8 mins), Jumping lunges (8 mins), Mountain climbers (8 mins), Quadruped bent knee hip extension (8 mins), Warm up 10 minutes, 25 minutes for high intensity aerobics. Group B were assigned 25 minutes for Pelvic clock exercises (gradually increased during with weeks) performed from 12 to 6 o'clock, as instructed to move from 3 o clock to 9 o clock. Then movement in a clockwise manner from 12 to 3 to 6 to 9 and then back to 12 o' clock. Outcome measures were calculated by visual analog scale VAS, DASS 21 and self-administered questionnaire for dysmenorrhea symptoms. Results: Both techniques were effective for managing the patients of pain during menstruation, but patients who were treated with high intensity aerobics exercise showed more significant result as compared to another group with p-value < 0.05. Conclusions: High intensity aerobics and Pelvic clock exercises in primary dysmenorrhea, both are effective but high intensity aerobics had given more efficient results
References
Iacovides S, Avidon I, Baker FC. What we know about primary dysmenorrhea today: a critical review. Human Reproduction Update. 2015 Dec;2 1(6):762-78. doi: 10.1093/humupd/dmv039
Gulzar S, Khan S, Abbas K, Arif S, Husain SS, Imran H, et al. Prevalence, perceptions and effects of dysmenorrhea in school going female adolescents of Karachi, Pakistan. International Journal of Innovative Research and Development. 2015 Feb; 4(2):235-40.
Bernardi M, Lazzeri L, Perelli F, Reis FM, Petraglia F. Dysmenorrhea and related disorders. F1000 Research. 2017 Sep; 6:1645. doi: 10.12688/f1000research.11682.1
Vlachou E, Owens DA, Lavdaniti M, Kalemikerakis J, Evagelou E, Margari N, et al. Prevalence, Wellbeing, and Symptoms of Dysmenorrhea among University Nursing Students in Greece. Diseases. 2019 Jan; 7(1):5. doi: 10.3390/diseases7010005
Ghada E, Asmaa M, Hassan OG. Effect of aerobic combined with pelvic rocking exercises on quality of life in primary dysmenorrhea. Bull. Fac. Ph. Th. Cairo Univ.. 2014 Jul; 19(2); 86-220.
Aboushady RM and El-saidy TM. Effect of home based stretching exercises and menstrual care on primary dysmenorrhea and premenstrual symptoms among adolescent girls. IOSR Journal of Nursing and Health Science. 2016; 5(2):10-7.
De Sanctis V, Soliman AT, Elsedfy H, Soliman NA, Elalaily R, El Kholy M. Dysmenorrhea in adolescents and young adults: a review in different countries. Acta Biomed. 2016; 87(3):233-46.
Sultan C, Gaspari L, Paris F. Adolescent dysmenorrhea. Pediatric and adolescent gynecology. 2012; 22:171-80. doi: 10.1159/000331775
Bavil DA, Dolatian M, Mahmoodi Z, Baghban AA. Comparison of lifestyles of young women with and without primary dysmenorrhea. Electron Physician. 2016 Mar; 8(3):2107-14. doi: 10.19082/2107
Tiyas K, Aria AN, Lingga CD. The correlation between physical activity and primary dysmenorrhea in female adolescents. Indian Journal of Public Health Research & Development. 2019; 10(8):2559-63.
Shepelenko TV, Cieślicka M, Prusik K, Muszkieta R, Sobko IN, Ryepko OA, et al. Factorial structure of aerobics athletes' fitness. Pedagogics, psychology, medical-biological problems of physical training and sports. 2017; (6):291-300.
Joshi T, Kural M, Agrawal DP, Noor NN, Patil A. Primary dysmenorrhea and its effect on quality of life in young girls. International Journal of Medical Science and Public Health. 2015 Mar; 4(3):381.
Abadi Bavil D, Dolatian M, Mahmoodi Z, Akbarzadeh Baghban A. A comparison of physical activity and nutrition in young women with and without primary dysmenorrhea. F1000 Research. 2018 Jan; 7:59. doi: 10.12688/f1000research.12462.1
Barcikowska Z, Rajkowska-Labon E, Grzybowska ME, Hansdorfer-Korzon R, Zorena K. Inflammatory Markers in Dysmenorrhea and Therapeutic Options. International journal of environmental research and public health. 2020 Feb; 17(4):1191. doi: 10.3390/ijerph17041191
Khare D and Jain P. Effect of different exercise techniques on primary dysmenorrhoea among higher secondary school girls. Age. 2015; 15(17year):15-7year.
Gerzson LR, Padilha JF, Braz MM, Gasparetto A. Physiotherapy in primary dysmenorrhea: literature review. Revista Dor. 2014; 15:290-5. doi: 10.5935/1806-0013.20140063
Chen CX, Draucker CB, Carpenter JS. What women say about their dysmenorrhea: a qualitative thematic analysis. BMC Womens Health. 2018 Mar; 18(1):47. doi: 10.1186/s12905-018-0538-8
Kannan P, Chapple CM, Miller D, Claydon LS, Baxter GD. Menstrual pain and quality of life in women with primary dysmenorrhea: Rationale, design, and interventions of a randomized controlled trial of effects of a treadmill-based exercise intervention. Contemporary Clinical Trials. 2015 May; 42:81-9. doi: 10.1016/j.cct.2015.03.010
Patel NS, Tanna T, Bhatt S. Effect of active stretching exercises on primary dysmenorrhea in college going female students. The Indian Journal of Physiotherapy and Occupational Therapy. 2015 Jul; 9(3):72.
Kannan P, Cheung KK, Lau BW, Li L, Chen H, Sun F. A mixed-methods study to evaluate the effectiveness and cost-effectiveness of aerobic exercise for primary dysmenorrhea: A study protocol. PLoS One. 2021 Aug; 16(8):e0256263. doi: 10.1371/journal.pone.0256263
Scruth E. Can Exercise Relieve Dysmenorrhea? American Journal of Nursing. 2020 Aug; 120(8):21. doi: 10.1097/01.NAJ.0000694544.96463.80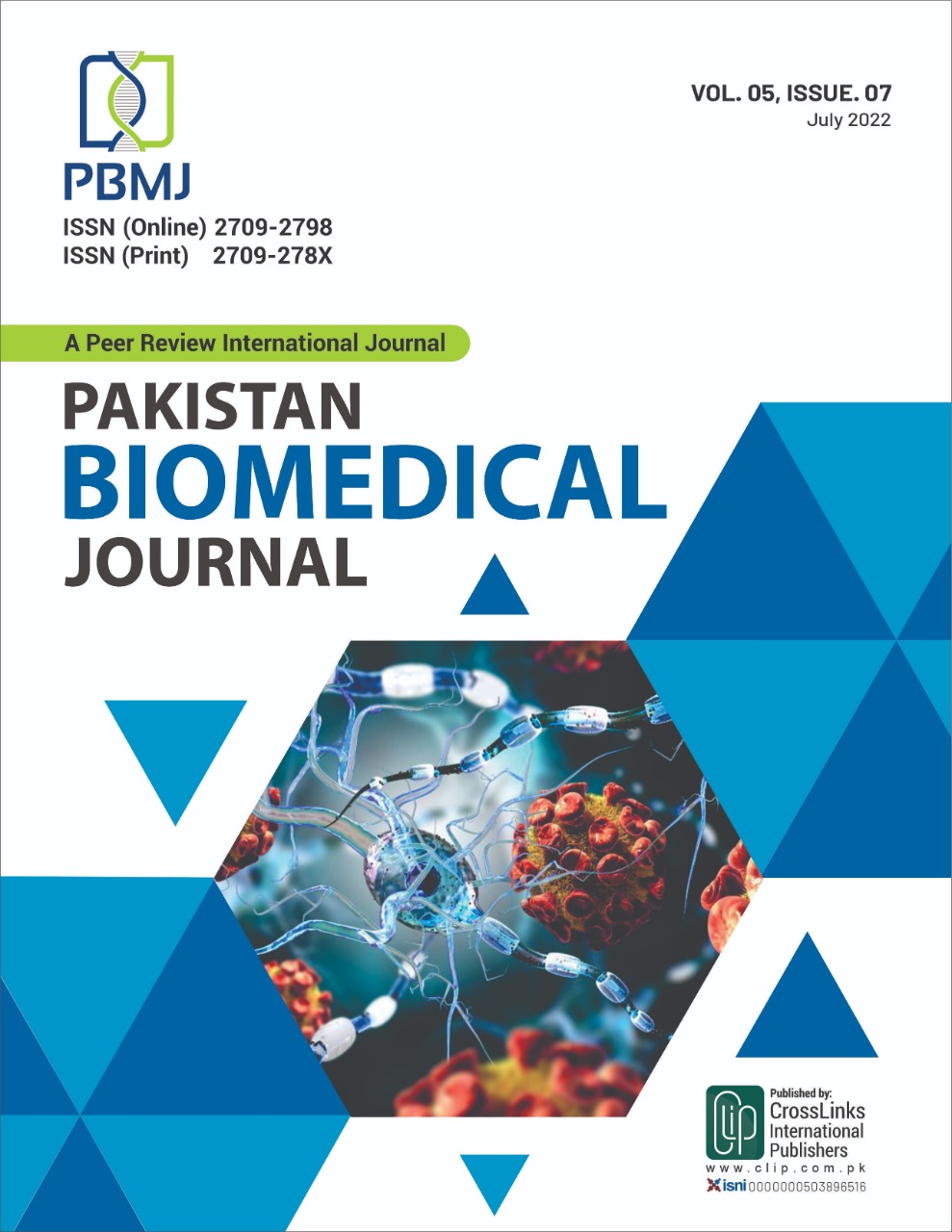 Downloads
How to Cite
Qamar, A. ., Aabroo, S. ., Afzal, S. ., Azhar, N. ., Aziz, S. ., Ishtiaq, N. ., & Faizan Hamid, M. . (2022). Effects Of High Intensity Aerobics and Pelvic Clock Exercises in Primary Dysmenorrhea: High Intensity Aerobics and Pelvic Clock Exercises in Primary Dysmenorrhea. Pakistan BioMedical Journal, 5(7), 269–273. https://doi.org/10.54393/pbmj.v5i7.611
License
Copyright (c) 2022 Pakistan BioMedical Journal
This work is licensed under a Creative Commons Attribution 4.0 International License.
This is an open-access journal and all the published articles / items are distributed under the terms of the Creative Commons Attribution License, which permits unrestricted use, distribution, and reproduction in any medium, provided the original author and source are credited. For comments editor@pakistanbmj.com