A Study of Urinary Tract Problems Usinig Ultrasound Imaging
Urinary Tract Problems using Ultrasound Imaging
Keywords:
Urinary Tract Problems, Hydronephrosis, UTI, Benign Prostatic Hypertrophy, Obstructive Uropathy
Abstract
Problems of the Urinary Tract are one of the most widespread infectious diseases, if left uncontrolled; it could really result in serious complications that can cause acute and chronic urinary tract failure. Objective: To assess the Urinary Tract Problems using Ultrasound Imaging.
Methods: It is cross-sectional research conducted at the Radiology Department of District Health Quarter Hospital, Gujranwala, Pakistan from 1, August 2022 to 30, November 2022. Abdominal Ultrasound Techniques was performed in a supine position. A sample size of 102 patients has been calculated via a convenient sampling technique. The patients under the age of 10 years were not included. The data was collected, calculated, and analyzed using SPSS version 26.0. Results: Most of the patients complaining Urinary Tract Problems were between the age of 40 to 80 years 59(57.8%). It was more common in males 54(52.9%). Most of the patients came for Ultrasound had the past history of UTI. Most of the patients came with pain and burning while urination 36(35.3%). The most common cause of Urinary Tract Problems was hydronephrosis 74(72.5%). Conclusion: Urinary Tract Problems were developed in any age group and most common in males. The major cause of Urinary Tract Problem was Hydronephrosis.
References
Montini G, Tullus K, Hewitt I. Febrile urinary tract infections in children. New England Journal of Medicine. 2011 Jul; 365(3): 239-50. doi: 10.1056/NEJMra1007755.
Korbel L, Howell M, Spencer JD. The clinical diagnosis and management of urinary tract infections in children and adolescents. Paediatrics and Hnternational Child Health. 2017 Oct; 37(4): 273-9. doi: 10.1080/20469047.2017.1382046.
McMillan SK, Knapp DW, Ramos-Vara JA, Bonney PL, Adams LG. Outcome of urethral stent placement for management of urethral obstruction secondary to transitional cell carcinoma in dogs: 19 cases (2007–2010). Journal of the American Veterinary Medical Association. 2012 Dec; 241(12): 1627-32. doi: 10.2460/javma.241.12.1627.
Saadeh SA and Mattoo TK. Managing urinary tract infections. Pediatric Nephrology. 2011 Nov; 26(11): 1967-76. doi: 10.1007/s00467-011-1801-5.
Kauffman CA, Fisher JF, Sobel JD, Newman CA. Candida urinary tract infections—diagnosis. Clinical Infectious Diseases. 2011 May; 52(suppl_6): S452-S6. doi: 10.1093/cid/cir111.
Stein R, Dogan HS, Hoebeke P, Kočvara R, Nijman RJ, Radmayr C, et al. Urinary tract infections in children: EAU/ESPU guidelines. European Urology. 2015 Mar; 67(3): 546-58. doi: 10.1016/j.eururo.2014.11.007.
Medina M and Castillo-Pino E. An introduction to the epidemiology and burden of urinary tract infections. Therapeutic Advances in Urology. 2019 Mar; 11: 1756287219832172. doi: 10.1177/1756287219832172.
Öztürk R and Murt A. Epidemiology of urological infections: a global burden. World Journal of Urology. 2020 Nov; 38(11): 2669-79. doi: 10.1007/s00345-019-03071-4.
Vasudevan R. Urinary tract infection: an overview of the infection and the associated risk factors. Journal of Microbiology & Experimentation. 2014 May; 1(2): 00008.
Ahmed MH, Ahmed HT, Khalil AA. Renal stone disease and obesity: what is important for urologists and nephrologists? Renal Failure. 2012 Nov; 34(10): 1348-54. doi: 10.15406/jmen.2014.01.00008.
Cabiddu G, Castellino S, Gernone G, Santoro D, Moroni G, Giannattasio M, et al. A best practice position statement on pregnancy in chronic kidney disease: the Italian Study Group on Kidney and Pregnancy. Journal of Nephrology. 2016 Jun; 29: 277-303. doi: 10.1007/s40620-016-0285-6.
Patel S, Taviad PP, Sinha M, Javadekar T, Chaudhari VP. Urinary tract infections (UTI) among patients at GG Hospital & Medical College, Jamnagar. National Journal of Community Medicine. 2012 Mar; 3(01): 138-41.
Goodlet KJ, Benhalima FZ, Nailor MD. A systematic review of single-dose aminoglycoside therapy for urinary tract infection: is it time to resurrect an old strategy? Antimicrobial Agents and Chemotherapy. 2019 Jan; 63(1): e02165-18. doi: 10.1128/AAC.02165-18.
Komala M, Kumar KS. Urinary tract infection: causes, symptoms, diagnosis and it's management. Indian Journal of Research in Pharmacy and Biotechnology. 2013 Mar; 1(2): 226-33.
Bush LM, Chaparro-Rojas F, Okeh V, Etienne J. Cumulative clinical experience from over a decade of use of levofloxacin in urinary tract infections: critical appraisal and role in therapy. Infection and Drug Resistance. 2011 Oct; 4: 177-89. doi: 10.2147/IDR.S15610.
Bowling CB and O'Hare AM. Managing older adults with CKD: individualized versus disease-based approaches. American Journal of Kidney Diseases. 2012 Feb; 59(2): 293-302. doi: 10.1053/j.ajkd.2011.08.039.
Anderson EL, Howe LD, Jones HE, Higgins JP, Lawlor DA, Fraser A. The prevalence of non-alcoholic fatty liver disease in children and adolescents: a systematic review and meta-analysis. PloS One. 2015 Oct; 10(10): e0140908. doi: 10.1371/journal.pone.0140908.
Ray AA, Ghiculete D, Pace KT, Honey RJDA. Limitations to ultrasound in the detection and measurement of urinary tract calculi. Urology. 2010 Aug; 76(2): 295-300. doi: 10.1016/j.urology.2009.12.015.
Haider G, Zehra N, Munir AA, Haider A. Risk factors of urinary tract infection in pregnancy. JPMA The Journal of the Pakistan Medical Association. 2010 Mar; 60(3): 213-6.
Yeh YP, Hu TH, Cho PY, Chen HH, Yen AMF, Chen SLS, et al. Evaluation of abdominal ultrasonography mass screening for hepatocellular carcinoma in Taiwan. Hepatology. 2014 May; 59(5): 1840-9. doi: 10.1002/hep.26703.
Tay S-Y, Tiu C-M, Hu B, Wang H-K, Chiou H-J, Lin Y-H, et al. Characterization and management of various renal cystic lesions by sonographic features. Journal of the Chinese Medical Association. 2018 Dec; 81(12): 1017-26. doi: 10.1016/j.jcma.2018.04.008.
Bonasoni MP, Comitini G, Cavicchioni O, Barbieri V, Dalla Dea G, Palicelli A, et al. Prenatal Detection of Vesico-Allantoic Cyst: Ultrasound and Autopsy Findings. Fetal and Pediatric Pathology. 2022 Nov: 1-8. doi: 10.1080/15513815.2022.2143250.
Finucane TE. 'Urinary tract infection'and the microbiome. The American Journal of Medicine. 2017 Mar; 130(3): e97-e8. doi: 10.1016/j.amjmed.2016.08.018.
Lo DS, Shieh HH, Ragazzi SLB, Koch VHK, Martinez MB, Gilio AE. Community-acquired urinary tract infection: age and gender-dependent etiology. Brazilian Journal of Nephrology. 2013 Jun; 35: 93-8. doi: 10.5935/0101-2800.20130016.
Fatima SS, Mussaed EA, Fatima SS, Mussaed EA. Urinary tract infection. Bacterial Identification and Drug Susceptibility Patterns in Pregnant and Non-Pregnant UTI Patients. 2018 Dec; 12(4): 1-22. doi: 10.1007/978-981-10-4750-3_1.
Donatini G, Van Slycke S, Aubert S, Carnaille B. Corticomedullary mixed tumor of the adrenal gland—a clinical and pathological chameleon: case report and review of literature. Updates in Surgery. 2013 Jun; 65(2): 161-4. doi: 10.1007/s13304-011-0132-1.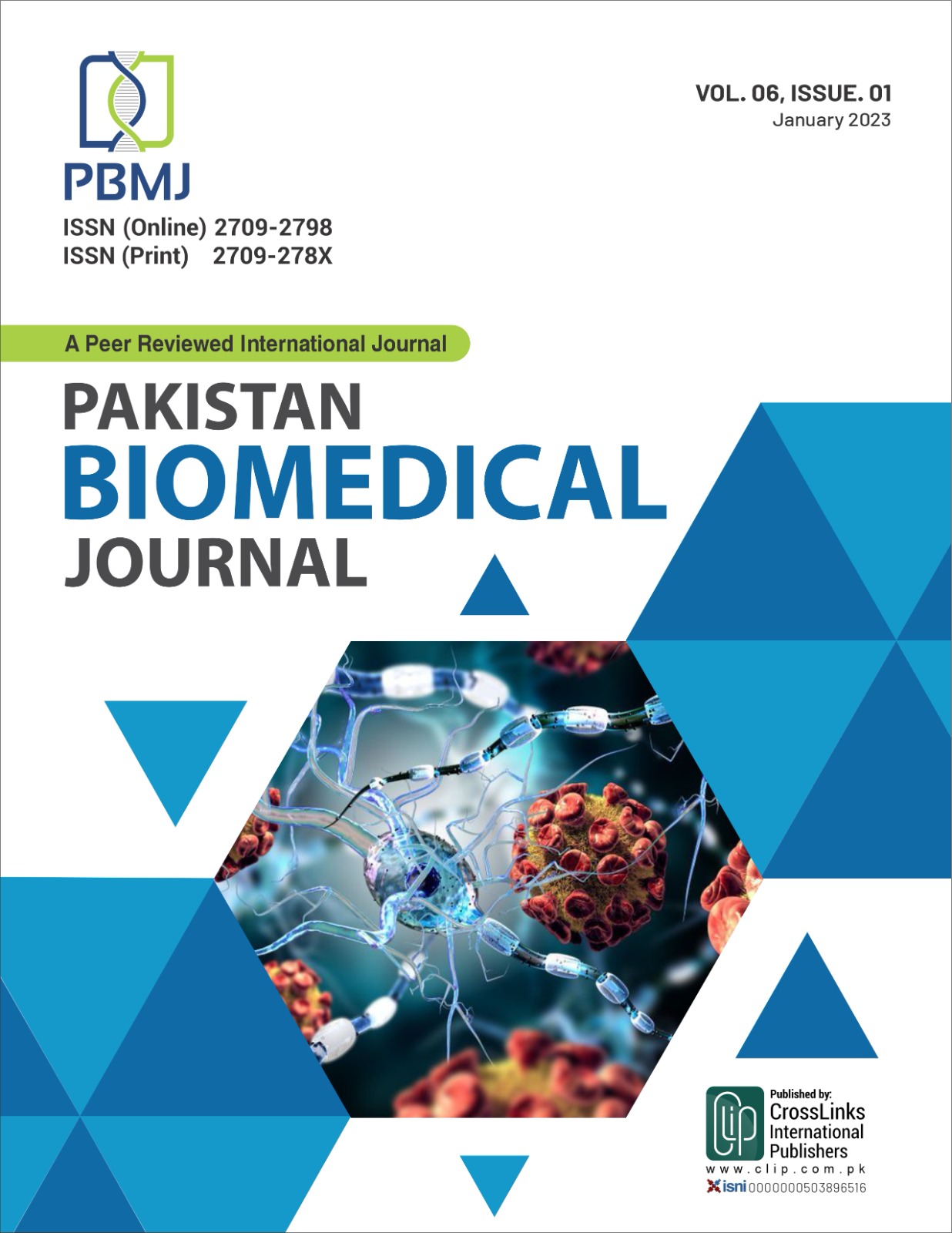 Downloads
CITATION
DOI: 10.54393/pbmj.v6i01.835
How to Cite
Sehar Nadeem, N. ., John, A. ., Ali, A. ., Fatima, T. ., Saghir, Z. ., & Tasaddaq, V. . (2023). A Study of Urinary Tract Problems Usinig Ultrasound Imaging: Urinary Tract Problems using Ultrasound Imaging. Pakistan BioMedical Journal, 6(01), 14–17. https://doi.org/10.54393/pbmj.v6i01.835
License
Copyright (c) 2023 Pakistan BioMedical Journal
This work is licensed under a Creative Commons Attribution 4.0 International License.
This is an open-access journal and all the published articles / items are distributed under the terms of the Creative Commons Attribution License, which permits unrestricted use, distribution, and reproduction in any medium, provided the original author and source are credited. For comments editor@pakistanbmj.com