Effects of Chlorpyrifos on biochemical characteristics of Labeorohitafish during acute and chronic exposure
Effects ofChlorpyrifos on biochemical characteristics of Labeorohita
Abstract
The aim of present study was to examine the biochemical characteristics of Labeorohita fish during acute and chronic exposure of pesticide, chlorpyrifos (CPF). Methods:During acute exposure, fish were exposed to different concentrations of CPF ranging from 0, 0.005, 0.006, 0.007, 0.008, 0.009, 0.01, 0.02, 0.03, 0.04 and 0.05 mg/L for 96 hrs in glass aquaria. The 96 hrs LC50 value of CPF for Labeorohita was found to be 0.01 mg/L. During chronic exposure fish were subjected to 1/3rd, 1/5th, 1/7th and 1/9th of LC50 for 30 days. At the end of the trial, samples were collected for biochemical (Blood cells, haemoglobin, plasma glucose and plasma protein) and sent to related laboratories. Results:The present study showed the RBCs, haemoglobin and Plasma Glucose level decreases as the concentration of CPF increases. On the other hand, platelets, WBCs and Plasma glucose level increases as the concentration of CPF increases. Decrease in RBCs count and haemoglobin indicates that CPF can cause anaemia to the fish. Conclusions: It is therefore concluded that Chlorpyrifos adversely affects the major organs of the fish Labeorohita.
References
Tripathi, S., &Srivastav, A. K. (2010). Branchialhistopathological study of Catfish Heteropneustesfossilis following exposure to purified neem extract, Azadirachtin. World journal of zoology, 5(4), 239-243.
https://doi.org/10.1504/IJENVH.2010.037497
Kaushik, P., &Kaushik, G. (2007). An assessment of structure and toxicity correlation in organochlorine pesticides. Journal of Hazardous Materials, 143(1-2), 102-111.
https://doi.org/10.1016/j.jhazmat.2006.08.073
Bhatnagar, A., Yadav, A. S., &Cheema, N. (2016). Genotoxic effects of chlorpyrifos in freshwater fish Cirrhinusmrigala using micronucleus assay. Advances in Biology, 2016.
https://doi.org/10.1155/2016/9276963
Ufodike, E. B. C., &Omoregie, E. (1991). Communications: Growth of Nile Tilapia Oreochromisniloticusniloticus Subjected to Sublethal Concentrations of Gammalin 20 and Actellic 25 EC in a Continuous‐Flow Toxicant Autodelivery System. Journal of aquatic animal health, 3(3), 221-223.
https://doi.org/10.1577/1548-8667(1991)003<0221:CGONTO>2.3.CO;2
Salazar-Lugo, R., Mata, C., Oliveros, A., Rojas, L. M., Lemus, M., & Rojas-Villarroel, E. (2011). Histopathological changes in gill, liver and kidney of neotropical fish Colossomamacropomum exposed to paraquat at different temperatures. Environmental toxicology and pharmacology, 31(3), 490-495.
https://doi.org/10.1016/j.etap.2011.02.002
Begum, G. (2004). Carbofuran insecticide induced biochemical alterations in liver and muscle tissues of the fish Clariasbatrachus (linn) and recovery response. Aquatic toxicology, 66(1), 83-92.
https://doi.org/10.1016/j.aquatox.2003.08.002
Brraich, O. S., &Kaur, M. (2015). Behavioural and Morphological Manifestations in LabeoRohita (Hamilton-Buchanan) Under the Exposure of Lead Nitrate. Zoology, 4(8).
Ghorashi, S., Shajeei, H., Vaezi, G., Shamoushaki, M. M. N., &Babakhani, A. (2013). Histopathological studies on kidneys and gills of Onchorhynchusmykiss exposed to sublethal concentration of ethylenediaminetetraacetic acid (EDTA). Global Veterinaria, 10(2), 121-127.
Burkepile, D. E., Moore, M. T., & Holland, M. M. (2000). Susceptibility of five nontarget organisms to aqueous diazinon exposure. Bulletin of environmental contamination and toxicology, 64(1), 114-121.
https://doi.org/10.1007/s001289910018
Zahran, E., Risha, E., Awadin, W., &Palić, D. (2018). Acute exposure to chlorpyrifos induces reversible changes in health parameters of Nile tilapia (Oreochromisniloticus). Aquatic toxicology, 197, 47-59.
https://doi.org/10.1016/j.aquatox.2018.02.001
Kwong, T. C. (2002). Organophosphate pesticides: biochemistry and clinical toxicology. Therapeutic drug monitoring, 24(1), 144-149.
https://doi.org/10.1097/00007691-200202000-00022
Abdel-Halim, K. Y., Salama, A. K., El-Khateeb, E. N., &Bakry, N. M. (2006). Organophosphorus pollutants (OPP) in aquatic environment at Damietta Governorate, Egypt: implications for monitoring and biomarker responses. Chemosphere, 63(9), 1491-1498.
https://doi.org/10.1016/j.chemosphere.2005.09.019
Yancheva, V., Velcheva, I., Georgieva, E., Mollov, I., &Stoyanova, S. (2019). Chlorpyrifos induced changes on the physiology of common carp (cyprinuscarpio Linnaeus, 1785): A laboratory exposure study. Appl. Ecol. Environ. Res, 17, 5139-5157.
https://doi.org/10.15666/aeer/1702_51395157
Nguyen NH, Ponzoni RW, Hamzah A, Yee HY, Abu-Bakar KR, Khaw HL (2004). Genetics of Flesh Quality. Fish. Aqua. 211: 65-79.
Danabas, D. (2011). Fatty acids profiles of rainbow trout (OncorhynchusmykissWalbaum, 1792), fed with zeolite (Clinoptilolite). J Anim Plant Sci, 21(3), 561-565.
Halappa, R., & David, M. (2009). Behavioral responses of the freshwater fish, Cyprinuscarpio (Linnaeus) following sublethal exposure to chlorpyrifos. Turkish Journal of Fisheries and Aquatic Sciences, 9(2).
https://doi.org/10.4194/trjfas.2009.0218
Banaee, M., Haghi, B. N., & Ibrahim, A. T. A. (2014). Sub-lethal toxicity of chlorpyrifos on Common carp, Cyprinuscarpio (Linnaeus, 1758): Biochemical response. International Journal of Aquatic Biology, 1(6), 281-288.
Rao, J. V., Rani, C. S., Kavitha, P., Rao, R. N., &Madhavendra, S. S. (2003). Toxicity of chlorpyrifos to the fish Oreochromismossambicus. Bulletin of Environmental Contamination and Toxicology, 70(5), 0985-0992.
https://doi.org/10.1007/s00128-003-0079-0
Rao, J. V., Begum, G., Pallela, R., Usman, P. K., &Rao, R. N. (2005). Changes in behavior and brain acetylcholinesterase activity in mosquito fish, Gambusiaaffinis in response to the sub-lethal exposure to chlorpyrifos. International Journal of Environmental Research and public health, 2(3), 478-483.
https://doi.org/10.3390/ijerph2005030013
Gül, A. (2005). Investigation of acute toxicity of chlorpyrifos-methyl on Nile tilapia (Oreochromisniloticus L.) larvae. Chemosphere, 59(2), 163-166.
https://doi.org/10.1016/j.chemosphere.2004.10.065
Ramaswamy, M., & Reddy, T. G. (1978). A comparative study of hematology of three air-breathing fishes. Proceedings of the Indian Academy of Sciences-Section B, Animal Sciences, 87(12), 381-385.
Srivastava, A. K., &Agrawal, U. (1981). Seasonal and diurnal variations of blood cell types in a freshwater teleost, Colisafasciatus. Comparative physiology and ecology.
Jenkins, F., Smith, J., Rajanna, B., Shameem, U., Umadevi, K., Sandhya, V., &Madhavi, R. (2003). Effect of sub-lethal concentrations of endosulfan on hematological and serum biochemical parameters in the carp Cyprinuscarpio. Bulletin of environmental contamination and toxicology, 70(5), 0993-0997.
https://doi.org/10.1007/s00128-003-0080-7
Ramesh, M., &Saravanan, M. (2008). Haematological and biochemical responses in a freshwater fish Cyprinuscarpio exposed to chlorpyrifos. International journal of integrative biology, 3(1), 80-83.
Adhikari, S., Sarkar, B., Chatterjee, A., Mahapatra, C. T., &Ayyappan, S. (2004). Effects of cypermethrin and carbofuran on certain hematological parameters and prediction of their recovery in a freshwater teleost, Labeorohita (Hamilton). Ecotoxicology and Environmental safety, 58(2), 220-226.
https://doi.org/10.1016/j.ecoenv.2003.12.003
Seth, N., &Saxena, K. K. (2003). Hematological responses in a freshwater fish Channapunctatus due to fenvalerate. Bulletin of environmental contamination and toxicology, 71(6), 1192-1199.
https://doi.org/10.1007/s00128-003-8732-1
Svoboda, M., Luskova, V., Drastichova, J., &Žlabek, V. (2001). The effect of diazinon on haematological indices of common carp (Cyprinuscarpio L.). ActaVeterinaria Brno, 70(4), 457-465.
https://doi.org/10.2754/avb200170040457
El-Sayed, Y. S., Saad, T. T., & El-Bahr, S. M. (2007). Acute intoxication of deltamethrin in monosex Nile tilapia, Oreochromisniloticus with special reference to the clinical, biochemical and haematological effects. Environmental Toxicology and Pharmacology, 24(3), 212-217.
https://doi.org/10.1016/j.etap.2007.05.006
Vázquez, G. R., &Nostro, F. L. (2014). Changes in hematological parameters of Cichlasomadimerus (Teleostei, Perciformes) exposed to sublethal concentrations of 4-tert-octylphenol. Archives of environmental contamination and toxicology, 66(3), 463-469.
https://doi.org/10.1007/s00244-014-9997-6
Gabriel, U. U., &Okey, I. B. (2009). Effect of aqueous leaf extracts of Lepidagathisalopecuroides on the behaviours and mortality of hybrid catfish (Heterobranchusbidorsalis%× Clariasgariepinus&) fingerlings. Research Journal of Applied Sciences, Engineering and Technology, 1(3), 116-120.
Barreto-Medeiros, J. M., Feitoza, E. G., Magalhães, K., Da Silva, R. R., Manhães-de-Castro, F. M., Manhães-de-Castro, R., & De-Castro, C. M. M. B. (2005). The expression of an intraspecific aggressive reaction in the face of a stressor agent alters the immune response in rats. Brazilian Journal of Biology, 65, 203-209.
https://doi.org/10.1590/S1519-69842005000200003
Modesto, K. A., & Martinez, C. B. (2010). Roundup® causes oxidative stress in liver and inhibits acetylcholinesterase in muscle and brain of the fish Prochiloduslineatus. Chemosphere, 78(3), 294-299.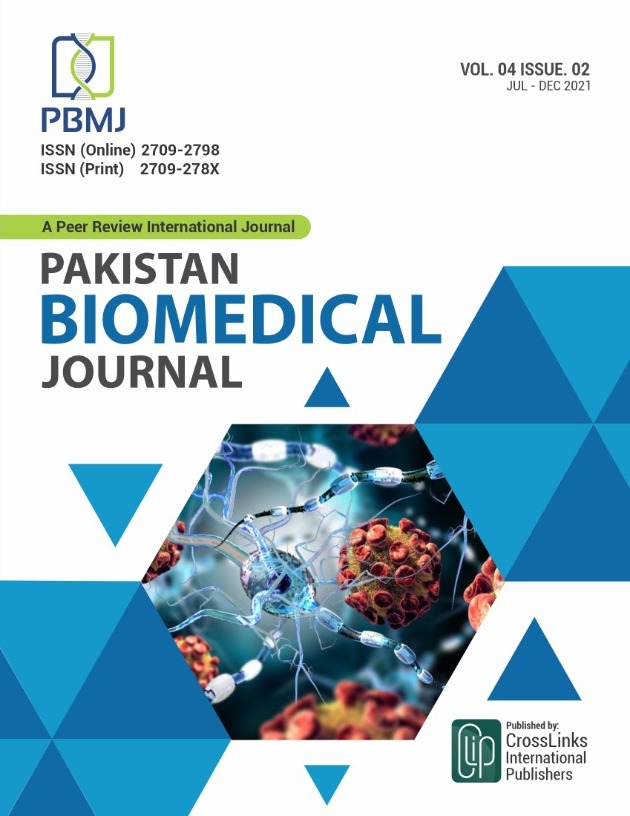 Downloads
CITATION
DOI: 10.54393/pbmj.v4i2.93
How to Cite
Syed, A. ., Mazhar, S., Rafi, U. ., Hussain, D. . ., & Hayee, S. . (2021). Effects of Chlorpyrifos on biochemical characteristics of Labeorohitafish during acute and chronic exposure: Effects ofChlorpyrifos on biochemical characteristics of Labeorohita. Pakistan BioMedical Journal, 4(2), 107–112. https://doi.org/10.54393/pbmj.v4i2.93
License
Copyright (c) 2021 Pakistan BioMedical Journal
This work is licensed under a Creative Commons Attribution 4.0 International License.
This is an open-access journal and all the published articles / items are distributed under the terms of the Creative Commons Attribution License, which permits unrestricted use, distribution, and reproduction in any medium, provided the original author and source are credited. For comments editor@pakistanbmj.com