Frequency of Gastrointestinal Diseases Diagnosed on Barium Contrast Studies
Frequency of Gastrointestinal Diseases
Keywords:
Barium, Gastrointestinal, patients, dyspepsia, gastric ulcers
Abstract
Barium is a non-invasive, low-cost imaging technology. Gastrointestinal (GIT) symptoms are common and have significant economic and social implications. Objective: To determine the frequency of gastrointestinal diseases diagnosed on barium contrast studies. Methods:This research includes 125 participants suffering from Gastrointestinal Diseases. The research was carried out at a secondary care private sector hospital in Gujranwala, Pakistan. The information was gathered between January and April of 2022. All patients who were recommended for barium examinations and those who had never surgery before were included in the study. Images were obtained for research objectives immediately after barium was taken orally. SPSS version 20 was used to enter and evaluate data. Results: Out of 125 Patients about 62(49.6%) were male and 63(50.4%) were female. The age ranges from (13-88 years) with a mean age of 48 years. The patients diagnose on barium study shows 11(8.8%) gastric ulcer, 7(5.6%) patients Achalasia, 19(15.2%) Diverticula, 10(8.0%) esophageal stricture, 13(10.4%) esophagitis, 5(4.0%) GERD, 7(5.6%) pyloric stenosis, 5(4.0%) SMA syndrome, 2(1.6%) others, and 46(36.8%) patients had normal radiological findings. Conclusion: Barium studies are a sensitive and reliable approach to identifying gastrointestinal problems. The barium studies should reclaim their place as a primary diagnostic tool by complementing endoscopy to provide physicians with information regarding the nature of the lesion
References
Skandalakis JE, Skandalakis LJ, Skandalakis PN. Esophagus. Surgical Anatomy and Technique: Springer; 2000 Jan;71(8):954-71.doi.org/10.1007/978-1-4615-7993-9-6.
Ellis H. Anatomy of the stomach. Surgery (Oxford). 2011 Nov;29(11):541-543. doi.org/10.1016/j.mpsur.2011.08.003
Orzech N, Navarro OM, Langer JC. Is ultrasonography a good screening test for intestinal malrotation?. Journal of pediatric surgery. 2006 May 1;41(5):1005-9. doi.org/10.1016/j.jpedsurg.2005.12.070
Levine MS, Rubesin SE, Laufer I. Barium esophagography: a study for all seasons. Clinical Gastroenterology and Hepatology. 2008 Jan;6(1):11-25. doi.org/10.1016/j.cgh.2007.10.029
Smith E. Epidemiology of gastrointestinal disorders. Canadian Family Physician. 1978;24:1007. doi.org/10.1016/S0016-5107(78)73511-X
Parkman HP, Doma S. The importance of gastrointestinal motility disorders. Practical gastroenterology. 2006 Sep;30(9):23.
Sperber AD, Bangdiwala SI, Drossman DA, Ghoshal UC, Simren M, Tack J, et al. Worldwide prevalence and burden of functional gastrointestinal disorders, results of Rome Foundation global study. Gastroenterology. 2021 Jan;160(1):99-114. E3.doi.org/10.1053/j.gastro.2020.04.014
Kupershmidt M, Varma D. Radiological tests in investigations of atypical chest pain. Australian family physician. 2006 May;35(5).
Bhatti MA, Rahim A, Sardar S, Siddiqui MA, Khan MM. Efficacy of Double Contrast Barium Meal Examination in Diagnosis of Acid Peptic Diseases. Pakistan Journal Of Medical & Health Sciences. 2018 Jul;12(3):1182-1185.
Debi U, Kumar I, Sharma V, Sinha A, Singh L, Kishor K, et al. Role of barium study in various gastric malignancies. Trop Gastroenterol. 2019;40(1):246-255.
Kempenich JW, Sirinek KR. Acid peptic disease. Surgical Clinics. 2018 Oct;98(5):933-944.
Nawaz M, Jehanzaib M, Khan K, Zari M. Role of barium meal examination in diagnosis of peptic ulcer. J Ayub Med Coll Abbottabad. 2008 Dec;20(4):59-61.
Xie X, Ren K, Zhou Z, Dang C, Zhang H et al. The global, regional and national burden of peptic ulcer disease from 1990 to 2019: a population-based study. BMC gastroenterology. 2022 Dec;22(1):1-13. doi.org/10.1186/s12876-022-02130-2
Gupta S, Levine MS, Rubesin SE, Katzka DA, Laufer I et al. Usefulness of barium studies for differentiating benign and malignant strictures of the esophagus. American Journal of Roentgenology. 2003 Mar;180(3):737-744. doi.org/10.2214/ajr.180.3.1800737
Nin CS, Marchiori E, Irion KL, Paludo ado, Alves GRT, Hochhegger DR, et al. Barium swallow study in routine clinical practice: a prospective study in patients with chronic cough. Jornal Brasileiro de Pneumologia. 2013 Jun;39:686-691. doi.org/10.1590/S1806-37132013000600007
Peyvasteh M, Askarpour S, Ostadian N, Moghimi MR, Javaherizadeh H. Diagnostic accuracy of barium enema findings in Hirschsprung's disease. ABCD Arquivos Brasileiros de Cirurgia Digestiva (São Paulo). 2016 Jul;29:155-158. doi.org/10.1590/0102-6720201600030007
Falk GW. Role of barium esophagography in evaluating dysphagia. Cleveland Clinic journal of medicine. 2009 Feb;76(2):105.
Rosman AS, Korsten MA. Meta-analysis comparing CT colonography, air contrast barium enema, and colonoscopy. The American journal of medicine. 2007 Mar;120(3):203-210. e4. doi.org/10.1016/j.amjmed.2006.05.061
Lingala S, Moore A, Kadire S, Shankar S, Das K, Howden CW.Unusual presentation of duodenal ulcer presenting with duodenal intussusception. ACG Case Reports Journal. 2018;5 5: e25. doi: 10.14309/crj.2018.25
Kahrilas PJ, Kim HC, Pandolfino JE et al. Approaches to the diagnosis and grading of hiatal hernia. Best practice & research Clinical gastroenterology. 2008 Aug;22(4):601-616. doi.org/10.1016/j.bpg.2007.12.007
Soila P, Palmgren O, Thomander K. The value of barium filling of the oesophagus in radiophotography (rp) of the chest. Acta tuberculosea et pneumologica Scandinavica. 1964;45:1-13.
Levine MS. Ten questions about barium esophagography and dysphagia. Gastroenterology Clinics. 2018 Sep;47(3):449-473. doi.org/10.1016/j.gtc.2018.04.001
Conteduca V, Sansonno D, Lauletta G, Russi S, Ingravallo G, Dammacco F. H. pylori infection and gastric cancer: state of the art. International journal of oncology. 2013 Jan;42(1):5-18. doi.org/10.3892/ijo.2012.1701
Sagawa T, Kakizaki S, Iizuka H, Onozato Y, Sohara N, Okamura S, et al. Analysis of colonoscopic perforations at a local clinic and a tertiary hospital. World Journal of Gastroenterology: WJG. 2012 Sep;18(35):4898. doi: 10.3748/wjg.v18.i35.4898
Ishihara R. Prevention of esophageal stricture after endoscopic resection. Digestive Endoscopy. 2019 Mar;31(2):134-145. doi.org/10.1111/den.13296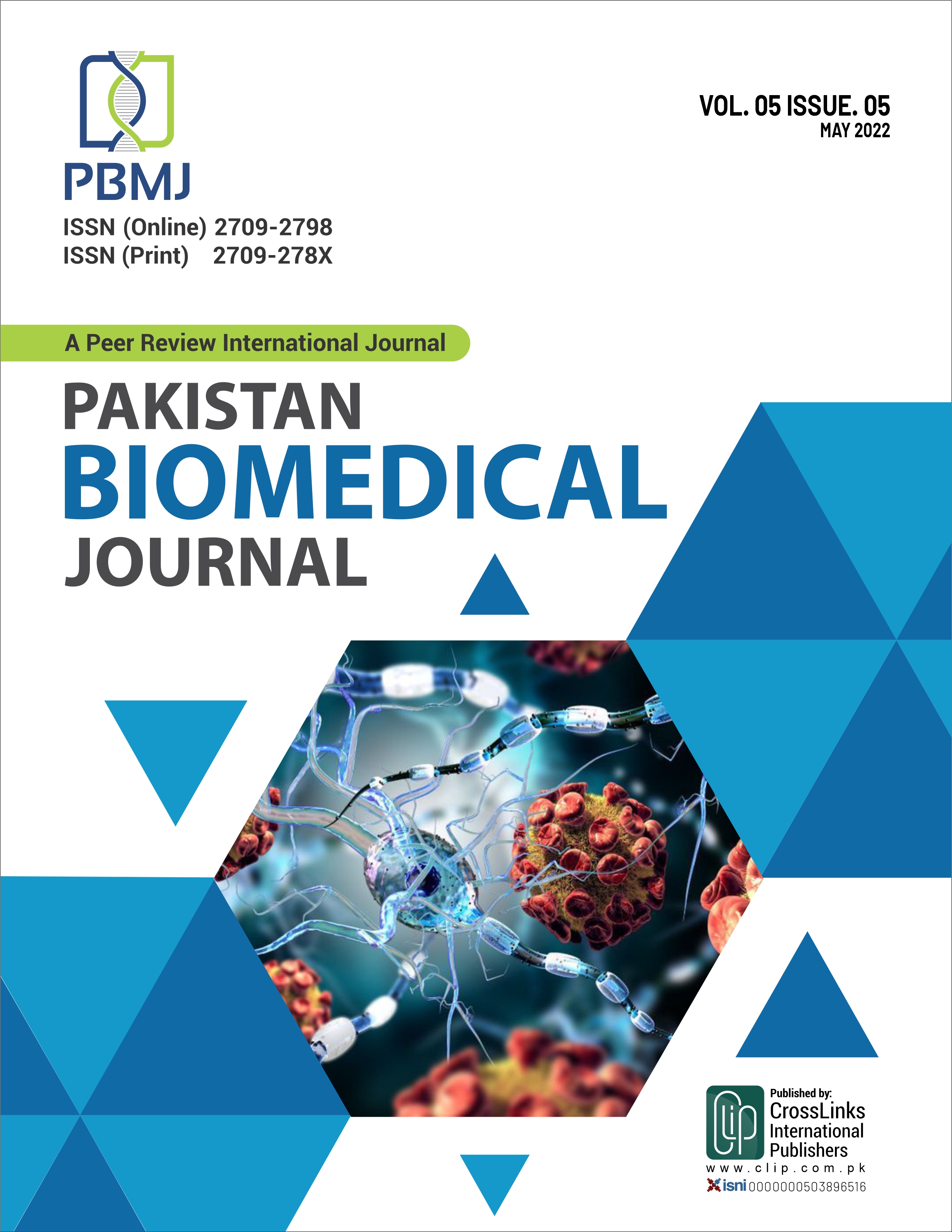 Downloads
CITATION
DOI: 10.54393/pbmj.v5i5.511
How to Cite
Khalid, A. ., John, A. ., Ali, A. . ., Batool , N. ., & Zamir, A. . (2022). Frequency of Gastrointestinal Diseases Diagnosed on Barium Contrast Studies: Frequency of Gastrointestinal Diseases. Pakistan BioMedical Journal, 5(5), 325–329. https://doi.org/10.54393/pbmj.v5i5.511
License
Copyright (c) 2022 Pakistan BioMedical Journal
This work is licensed under a Creative Commons Attribution 4.0 International License.
This is an open-access journal and all the published articles / items are distributed under the terms of the Creative Commons Attribution License, which permits unrestricted use, distribution, and reproduction in any medium, provided the original author and source are credited. For comments editor@pakistanbmj.com