Attitude Of Final Year Doctor of Physical Therapy Students Towards Direct Access
Attitude of Final Year DPT Students Towards Direct Access
Keywords:
Direct access, Physical therapy, DPT students
Abstract
Direct access in physical therapy means the removal of a medical practitioner's referral directed by the country's law to access services of physical therapists for patient evaluation and treatment. students are the future of any country. Objective: To describe the attitude of physical therapy students in their final year towards direct access in Pakistan. Methods: A cross-sectional study was conducted on a sample size of 500, over a period of six months. A semi-structured questionnaire was developed to determine the desired objectives. Data was analyzed by using SPSS 21.  Results: 62.8% students agreed and 30% students strongly agreed to practice under direct access after graduating. Conclusions: The study concludes that most physical therapy students are ready to practice under direct access in Pakistan after graduating. 
References
Khalid MT, Sarwar MF, Sarwar MH, Sarwar M. Current role of physiotherapy in response to changing healthcare needs of the society. International Journal of Education and Information Technology, 2015; 1 (3): 105. 2015;110.
Higgs J, Refshauge K, Ellis E. Portrait of the physiotherapy profession. J Interprof Care. 2001 Feb;15(1):79-89. doi: 10.1080/13561820020022891
Li LC, Bombardier C. Physical therapy management of low back pain: an exploratory survey of therapist approaches. Phys Ther. 2001 Apr;81(4):1018-28. doi.10.1093/ptj/81.4.1018
Orlin MN, Cicirello NA, O'Donnell AE, Doty AK. The continuum of care for individuals with lifelong disabilities: role of the physical therapist. Phys Ther. 2014 Jul;94(7):1043-53. doi: 10.2522/ptj.20130168.
Jankovic J, Lang AE. Movement disorders: Diagnosis and assessment. Neurology in Clinical Practice'de. Ed Bradley WG, Daroff RB, Fenichel GM, Jankovic J. 4. Bask›.
Berglund J, Poepping E. Physical Therapists' Role in Health Promotion as Perceived by the Patient: A Descriptive Study.
Demont A, Bourmaud A, Kechichian A, Desmeules F. The impact of direct access physiotherapy compared to primary care physician led usual care for patients with musculoskeletal disorders: a systematic review of the literature. Disabil Rehabil. 2021 Jun;43(12):1637-1648. doi: 10.1080/09638288.2019.1674388.
Robert G, Stevens A. Should general practitioners refer patients directly to physical therapists?. British Journal of General Practice. 1997 May 1;47(418):314-8.
Scheuneman K. Physical therapy students' views of preparation to practice under direct access (Doctoral dissertation, Grand Valley State University).
Scheele J, Vijfvinkel F, Rigter M, Swinkels IC, Bierman-Zeinstra SM, Koes BW, Luijsterburg PA. Direct access to physical therapy for patients with low back pain in the Netherlands: prevalence and predictors. Phys Ther. 2014 Mar;94(3):363-70. doi: 10.2522/ptj.20120330.
Boissonnault WG, Badke MB, Powers JM. Pursuit and implementation of hospital-based outpatient direct access to physical therapy services: an administrative case report. Phys Ther. 2010 Jan;90(1):100-9. doi: 10.2522/ptj.20080244.
Owens SC, Tucker P, Rainey Y, Edmunds B, Shetty A. Student perceived competence in direct access to physical therapy in a doctor of physical therapy program at a historically black university. J Health Care Poor Underserved. 2014 Nov;25(4):1966-81. doi: 10.1353/hpu.2014.0192.
Crout KL, Tweedie JH, Miller DJ. Physical therapists' opinions and practices regarding direct access. Phys Ther. 1998 Jan;78(1):52-61. doi: 10.1093/ptj/78.1.52..
Ojha HA, Snyder RS, Davenport TE. Direct access compared with referred physical therapy episodes of care: a systematic review. Phys Ther. 2014 Jan;94(1):14-30. doi: 10.2522/ptj.20130096.
Moore JH, McMillian DJ, Rosenthal MD, Weishaar MD. Risk determination for patients with direct access to physical therapy in military health care facilities. J Orthop Sports Phys Ther. 2005 Oct;35(10):674-8. doi: 10.2519/jospt.2005.35.10.674.
Leemrijse CJ, Swinkels IC, Veenhof C. Direct access to physical therapy in the Netherlands: results from the first year in community-based physical therapy. Phys Ther. 2008 Aug;88(8):936-46. doi: 10.2522/ptj.20070308.
Boissonnault WG, Lovely K. Hospital-Based Outpatient Direct Access to Physical Therapist Services: Current Status in Wisconsin. Phys Ther. 2016 Nov;96(11):1695-1704. doi: 10.2522/ptj.20150540.
Jette DU, Ardleigh K, Chandler K, McShea L. Decision-making ability of physical therapists: physical therapy intervention or medical referral. Phys Ther. 2006 Dec;86(12):1619-29. doi: 10.2522/ptj.20050393.
McCallum CA, DiAngelis T. Direct access: factors that affect physical therapist practice in the state of Ohio. Phys Ther. 2012 May;92(5):688-706. doi: 10.2522/ptj.20100358.
Wilson AM. Integrated clinical experiences in a campus onsite clinic: A self-contained model of physical therapy clinical education. Internet Journal of Allied Health Sciences and Practice. 2014;12(3):8.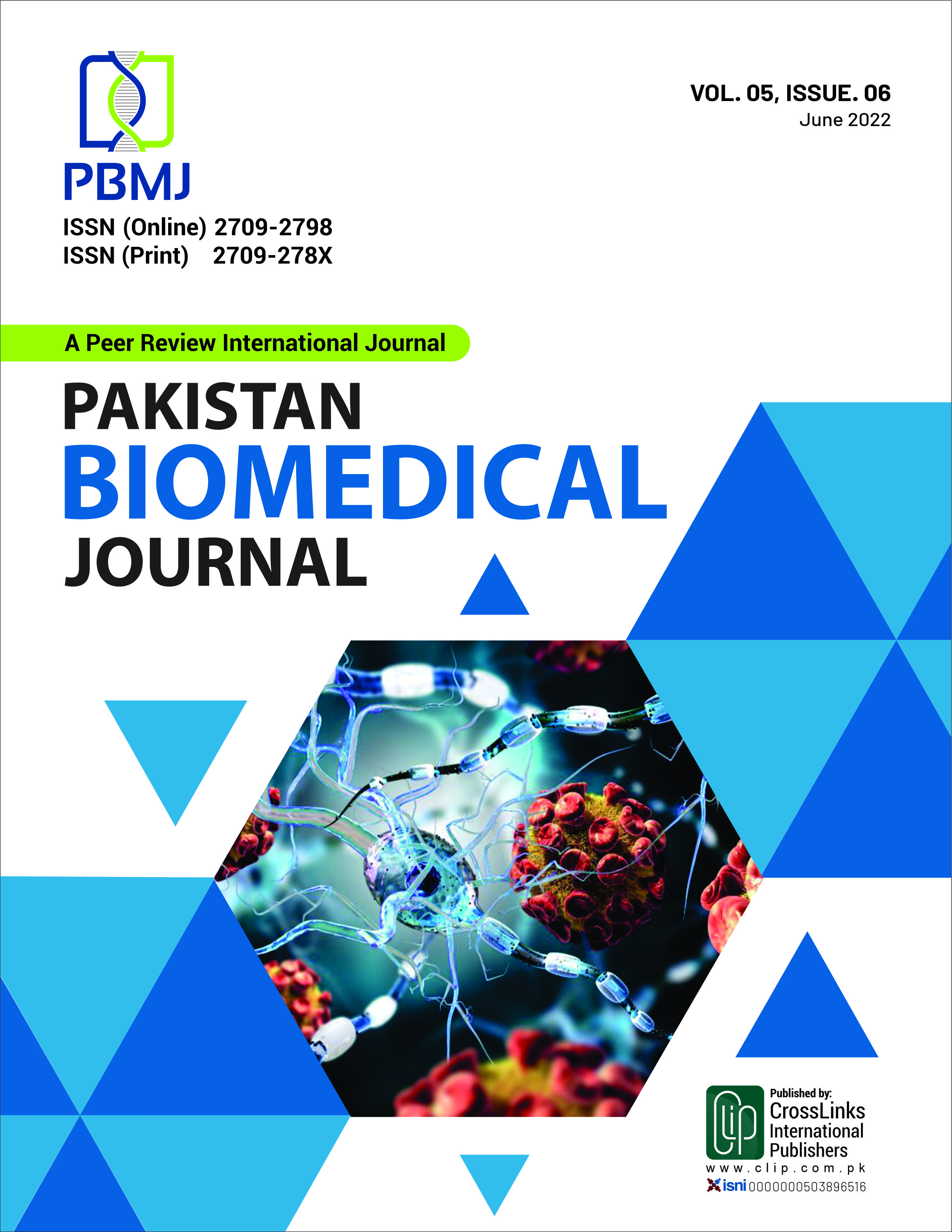 Downloads
CITATION
DOI: 10.54393/pbmj.v5i6.567
How to Cite
Tahir, A. ., Saad Hassan, M. ., Mohammad Latif, M. J., Mohammad Latif, S. B., Fahad Khalid, S. ., & Faizan Hamid, M. (2022). Attitude Of Final Year Doctor of Physical Therapy Students Towards Direct Access: Attitude of Final Year DPT Students Towards Direct Access. Pakistan BioMedical Journal, 5(6), 271–275. https://doi.org/10.54393/pbmj.v5i6.567
License
Copyright (c) 2022 Pakistan BioMedical Journal
This work is licensed under a Creative Commons Attribution 4.0 International License.
This is an open-access journal and all the published articles / items are distributed under the terms of the Creative Commons Attribution License, which permits unrestricted use, distribution, and reproduction in any medium, provided the original author and source are credited. For comments editor@pakistanbmj.com