Spectrum Of Antimicrobial Susceptibility Pattern of Urinary Tract Infection in In Adults
Antimicrobial Susceptibility Pattern of Urinary Tract Infection
Keywords:
Urinary Tract Infections, Culture and Sensitivity, Drug Resistance, Empirical Therapy
Abstract
Patients of all ages and genders regularly experience urinary tract infections. Antibiotic misuse has caused organisms to develop drug resistance, creating a treatment problem. Objective: To uncover risk variables and relationships, as well as the antibiotic susceptibility in UTI patients. Methods: Diabetes and non-diabetes with UTI were compared within groups using the Chi-square test, with a significant P-value of 0.05. Results: 32 (21.2%) were given empirical treatment with ciprofloxacin (11%), cefixime (5%), ceftriaxone (2.6%), cefoparazone-sulbactum (1.30%), amoxicillin-clavulanic acid (1.30%), ampicillin (1.30%), and co-trimoxazole (0.60%), respectively. E. coli was the most prevalent pathogen, with an isolation rate of 84%, followed by pseudomonas aeruginosa (6%), Serratia (3.3%), klebsiella (2.6%), Enterobacter cloacae (2.6%), Sternotophomus (0.7%), and MRSA (each in 0.7%). Ampicillin, Cefixime, Ceftriaxone, Co-Trimoxazole, Ciprofloxacin, Amoxicillin-Clavulanic Acid, Tetracycline, and Levofloxacin were all often resistant to, respectively, 87 percent, 83 percent, 78 percent, 78 percent, and 51 percent of these antibiotics. Conclusions: MDR prevalence is highest in gram-negative bacteria. The presence of diabetes mellitus and being a woman are significant risk factors for UTI, according to tests. Escherichia coli (84%) is the most common uropathogen. Carbapenems, piperacillin-tazobactam, Amikacin, Gentamicin, and cefoparazone-sulbactam (parenteral) as well as Nitrofurantoin are the preferred empirical treatments (oral). Hospitals and the nation at large should constantly examine and reassess their antimicrobial policies.
References
Öztürk R and Murt A. Epidemiology of urological infections: a global burden. World Journal of Urology. 2020 Nov; 38(11):2669-2679. doi: 10.1007/s00345-019-03071-4
de Lastours V and Foxman B. Urinary tract infection in diabetes: epidemiologic considerations. Current Infectious Disease Reports. 2014 Jan; 16(1):389. doi: 10.1007/s11908-013-0389-2
Vasudevan R. Urinary tract infection: an overview of the infection and the associated risk factors. Journal of Microbiology and Experimentation. 2014 May; 1(2):00008. doi: 10.15406/jmen.2014.01.00008
Gondos AS, Al-Moyed KA, Al-Robasi AB, Al-Shamahy HA, Alyousefi NA. Urinary Tract Infection among Renal Transplant Recipients in Yemen. PLoS One. 2015 Dec; 10(12):e0144266. doi: 10.1371/journal.pone.0144266
Mishra MP, Sarangi R, Padhy RN. Prevalence of multidrug resistant uropathogenic bacteria in pediatric patients of a tertiary care hospital in eastern India. Journal of Infectious and Public Health. 2016 Jun; 9(3):308-14. doi: 10.1016/j.jiph.2015.10.002
ML M. Health-point survey of bacteria urinary tract infections among suspected diabetic patients attending clinics in Bushenyi, Uganda.
Cortese YJ, Wagner VE, Tierney M, Devine D, Fogarty A. Review of Catheter-Associated Urinary Tract Infections and In Vitro Urinary Tract Models. Journal of Healthcare Engineering. 2018 Oct; 2018:2986742. doi: 10.1155/2018/2986742
Foxman B. Urinary tract infection syndromes: occurrence, recurrence, bacteriology, risk factors, and disease burden. Infectious Disease Clinics of North America. 2014 Mar; 28(1):1-13. doi: 10.1016/j.idc.2013.09.003
Jeong SJ, Kim HJ, Lee YJ, Lee JK, Lee BK, Choo YM, et al. Prevalence and Clinical Features of Detrusor Underactivity among Elderly with Lower Urinary Tract Symptoms: A Comparison between Men and Women. Korean Journal of Urology. 2012 May; 53(5):342-8. doi: 10.4111/kju.2012.53.5.342
Patra PB and Patra S. Sex differences in the physiology and pharmacology of the lower urinary tract. Current Urology. 2013 Feb; 6(4):179-88. doi: 10.1159/000343536
François M, Hanslik T, Dervaux B, Le Strat Y, Souty C, Vaux S, et al. The economic burden of urinary tract infections in women visiting general practices in France: a cross-sectional survey. BMC Health Services Research. 2016 Aug; 16(a):365. doi: 10.1186/s12913-016-1620-2
Lema VM and Lema AP. Sexual activity and the risk of acute uncomplicated urinary tract infection in premenopausal women: implications for reproductive health programming. Obstetrics and Gynecology International Journal. 2018; 9(1):00303. doi: 10.15406/ogij.2018.09.00303
Julka S. Genitourinary infection in diabetes. Indian Journal of Endocrinology & Metabolism. 2013 Sep; 17. doi: 10.4103/2230-8210.119512
El-Nagar MM, Abd El-Salam AE, Gabr HM, Abd El EE. Prevalence of urinary tract infection in Damietta diabetic patients. Menoufia Medical Journal. 2015 Apr; 28(2):559. doi: 10.4103/1110-2098.163918
Dancer SJ, Kirkpatrick P, Corcoran DS, Christison F, Farmer D, Robertson C. Approaching zero: temporal effects of a restrictive antibiotic policy on hospital-acquired Clostridium difficile, extended-spectrum β-lactamase-producing coliforms and meticillin-resistant Staphylococcus aureus. International Journal of Antimicrobial Agents. 2013 Feb; 41(2):137-42. doi: 10.1016/j.ijantimicag.2012.10.013
Roberts KB. Urinary tract infection: clinical practice guideline for the diagnosis and management of the initial UTI in febrile infants and children 2 to 24 months. Pediatrics. 2011 Sep; 128(3):595-610. doi: 10.1542/peds.2011-1330
Fridkin S, Baggs J, Fagan R, Magill S, Pollack LA, Malpiedi P, et al. Vital signs: improving antibiotic use among hospitalized patients. Morbidity and Mortality Weekly Report. 2014 Mar; 63(9):194-200
Ahmed NH, Raghuraman K, Baruah FK, Grover RK. Antibiotic Resistance Pattern of Uropathogens: An Experience from North Indian Cancer Patient. Journal of Glob Infectious Diseases. 2015 Sep; 7(3):113-5. doi: 10.4103/0974-777X.161742
Hamdan HZ, Kubbara E, Adam AM, Hassan OS, Suliman SO, Adam I. Urinary tract infections and antimicrobial sensitivity among diabetic patients at Khartoum, Sudan. Annals of Clinical Microbiology and Antimicrobials. 2015 Apr; 14:26. doi: 10.1186/s12941-015-0082-4
Kaur N, Sharma S, Malhotra S, Madan P, Hans C. Urinary tract infection: aetiology and antimicrobial resistance pattern in infants from a tertiary care hospital in northern India. Journal of Clinical and Diagnostic Research. 2014 Oct; 8(10):DC01-3. doi: 10.7860/JCDR/2014/8772.4919
Melaku S, Kibret M, Abera B, Gebre-Sellassie S. Antibiogram of nosocomial urinary tract infections in Felege Hiwot referral hospital, Ethiopia. African Health Sciences. 2012 Jun; 12(2):134-9. doi: 10.4314/ahs.v12i2.9
Sharma N, Gupta A, Walia G, Bakhshi R. Pattern of antimicrobial resistance of Escherichia coli isolates from urinary tract infection patients: A three year retrospective study. Journal of applied pharmaceutical science. 2016 Jan; 6(1):062-5. doi: 10.7324/JAPS.2016.600110
Kibret M and Abera B. Prevalence and antibiogram of bacterial isolates from urinary tract infections at Dessie Health Research Laboratory, Ethiopia. Asian Pacific Journal of Tropical Biomedicine. 2014 Feb; 4(2):164-8. doi: 10.1016/S2221-1691(14)60226-4
Chiță T, Licker M, Sima A, Vlad A, Timar B, Sabo P, et al. Prevalence of urinary tract infections in diabetic patients. Romanian Journal of Diabetes Nutrition and Metabolic Diseases. 2013 Jun; 20(2):99-105.
Belete Y, Asrat D, Woldeamanuel Y, Yihenew G, Gize A. Bacterial Profile And Antibiotic Susceptibility Pattern Of Urinary Tract Infection Among Children Attending Felege Hiwot Referral Hospital, Bahir Dar, Northwest Ethiopia. Infection and Drug Resistance. 2019 Nov; 12:3575-3583. doi: 10.2147/IDR.S217574
Mamuye Y. Antibiotic Resistance Patterns of Common Gram-negative Uropathogens in St. Paul's Hospital Millennium Medical College. Ethiopian Journal of Health Sciences. 2016 Mar; 26(2):93-100. doi: 10.4314/ejhs.v26i2.2
Acharya D, Bogati B, Shrestha GT, Gyawali P. Diabetes mellitus and urinary tract infection: Spectrum of uropathogens and their antibiotic sensitivity. Journal of Manmohan Memorial Institute of Health Sciences. 2015 Feb; 1(4):24-8. doi: 10.3126/jmmihs.v1i4.11998
Vincent CR, Thomas TL, Reyes L, White CL, Canales BK, Brown MB. Symptoms and risk factors associated with first urinary tract infection in college age women: a prospective cohort study. Journal of Urology. 2013 Mar; 189(3):904-10. doi: 10.1016/j.juro.2012.09.087
Abate D, Kabew G, Urgessa F, Meaza D. Bacterial etiologies, antimicrobial susceptibility patterns and associated risk factors of urinary tract infection among diabetic patients attending diabetic clinics in Harar, Eastern Ethiopia. East African Journal of Health and Biomedical Sciences. 2017 May; 1(2):11-20.
Kulkarni SR, Peerapur BV, Sailesh KS. Isolation and Antibiotic Susceptibility Pattern of Escherichia coli from Urinary Tract Infections in a Tertiary Care Hospital of North Eastern Karnataka. Journal of Natural Science, Biology and Medicine. 2017 Dec; 8(2):176-180. doi: 10.4103/0976-9668.210012
Woo B, Jung Y, Kim HS. Antibiotic sensitivity patterns in children with urinary tract infection: Retrospective study over 8 years in a single center. Childhood Kidney Diseases. 2019; 23(1):22-8. doi: 10.3339/jkspn.2019.23.1.22
Yılmaz N, Ağuş N, Bayram A, Şamlıoğlu P, Şirin MC, Derici YK, et al. Antimicrobial susceptibilities of Escherichia coli isolates as agents of community-acquired urinary tract infection (2008-2014). Turkish Journal of Urology. 2016 Mar; 42(1):32-6. doi: 10.5152/tud.2016.90836
Caron F, Galperine T, Flateau C, Azria R, Bonacorsi S, Bruyère F, et al. Practice guidelines for the management of adult community-acquired urinary tract infections. Medecine et Maladies Infectieuses. 2018 Aug; 48(5):327-358. doi: 10.1016/j.medmal.2018.03.005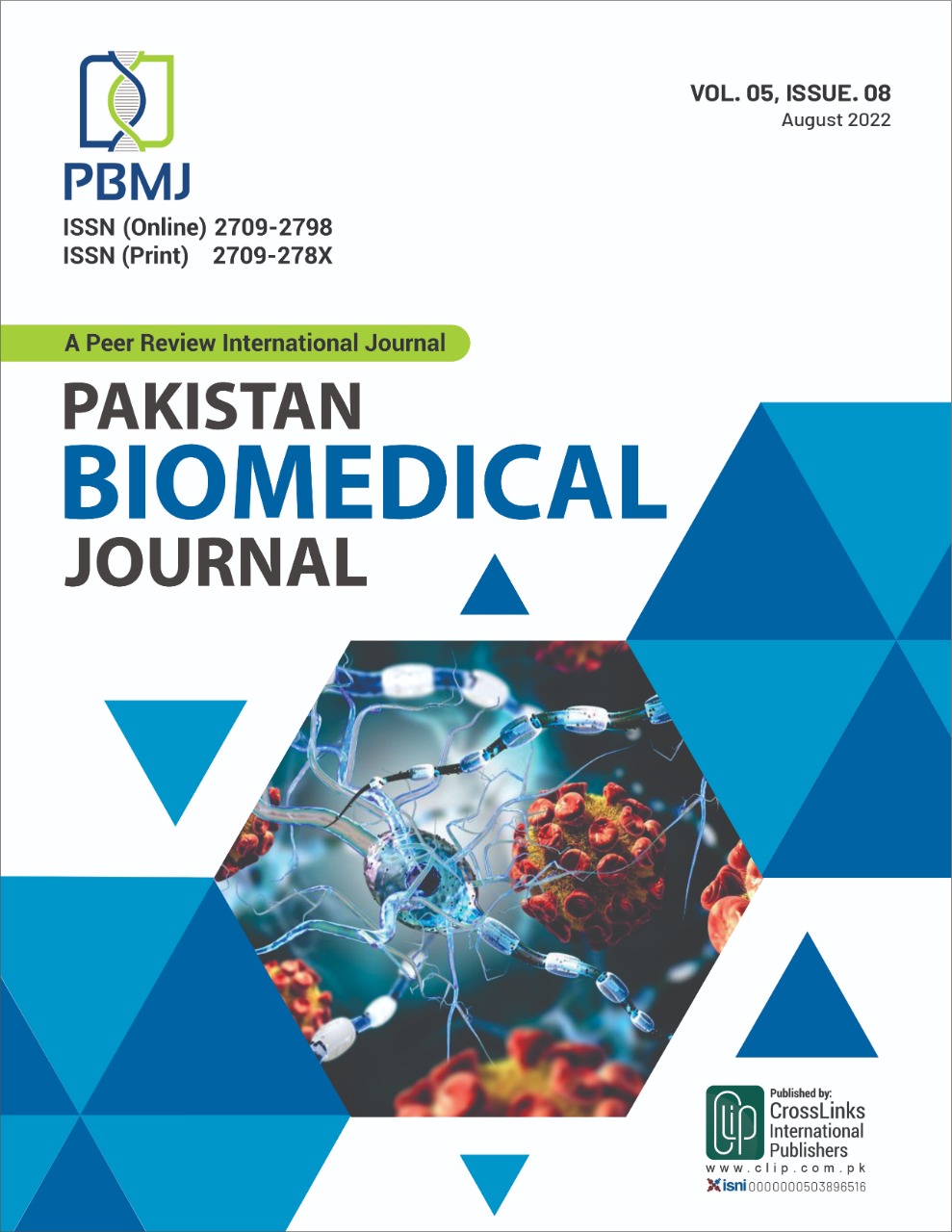 Downloads
CITATION
DOI: 10.54393/pbmj.v5i8.751
How to Cite
Andaleeb, H. ., Zia, W. ., Shahid, A. ., Iqbal Tarar, Z., Shams, N. ., Haq, K. ., & Faizan Hamid, M. . (2022). Spectrum Of Antimicrobial Susceptibility Pattern of Urinary Tract Infection in In Adults: Antimicrobial Susceptibility Pattern of Urinary Tract Infection. Pakistan BioMedical Journal, 5(8), 60–66. https://doi.org/10.54393/pbmj.v5i8.751
License
Copyright (c) 2022 Pakistan BioMedical Journal
This work is licensed under a Creative Commons Attribution 4.0 International License.
This is an open-access journal and all the published articles / items are distributed under the terms of the Creative Commons Attribution License, which permits unrestricted use, distribution, and reproduction in any medium, provided the original author and source are credited. For comments editor@pakistanbmj.com