A Prospective Cohort Study on Suspected COVID-19 Patients undergoing Nasopharyngeal Swab PCR and HRCT
Nasopharyngeal Swab PCR and HRCT in COVID-19 Patients
Abstract
Objective:To Determine the Specificity, Accuracy and Sensitivity of HRCT in Diagnosis of Covi-19.
Methods: Prospective cohort study was done with 181 participants who were suspected for COVID-19 infection and were followed to evaluate PCR and HRCT reporting in patients with clinical symptoms.
Results: 86.8% of patients had a dry cough, followed most commonly with shortness of breath. 65 (35.9%) of patients had ground-glass opacities of haze on HRCT followed by 47 (26 %). who had consolidations present. 147 (81.2)patients had a positive PCR whereas 34 (18.7%) was negative had an HRCT that was suggestive of having COVID-19 pneumonia.
Conclusion:In conclusion clinical symptomatology, HRCT findings and PCR all should be used in a triple examination. It is concluded that a positive PCR test is very specific and used to make diagnosis for Covid-19. CT has a higher sensitivity but a lower specificity, thus helping with disease diagnosis and therapy.
References
Fanelli D, Piazza F. Analysis and forecast of COVID-19 spreading in China, Italy and France. Chaos, Solitons & Fractals. 2020;134:109761.
Mo P, Xing Y, Xiao Y, Deng L, Zhao Q, Wang H, et al. Clinical characteristics of refractory COVID-19 pneumonia in Wuhan, China. Clin Infect Dis. 2020.
Pascarella G, Strumia A, Piliego C, Bruno F, Del Buono R, Costa F, et al. COVID‐19 diagnosis and management: a comprehensive review. Journal of internal medicine. 2020;288(2):192-206.
Abbasi-Oshaghi E, Mirzaei F, Farahani F, Khodadadi I, Tayebinia H. Diagnosis and treatment of coronavirus disease 2019 (COVID-19): Laboratory, PCR, and chest CT imaging findings. International Journal of Surgery. 2020;79:143-53.
Bénézit F, Le Turnier P, Declerck C, Paillé C, Revest M, Dubée V, et al. Utility of hyposmia and hypogeusia for the diagnosis of COVID-19. The Lancet Infectious Diseases. 2020;20(9):1014-5.
Long C, Xu H, Shen Q, Zhang X, Fan B, Wang C, et al. Diagnosis of the Coronavirus disease (COVID-19): rRT-PCR or CT? European journal of radiology. 2020;126:108961.
Majidi H, Niksolat F. Chest CT in patients suspected of COVID-19 infection: A reliable alternative for RT-PCR. The American journal of emergency medicine. 2020;38(12):2730-2.
Zhai P, Ding Y, Wu X, Long J, Zhong Y, Li Y. The epidemiology, diagnosis and treatment of COVID-19. International journal of antimicrobial agents. 2020;55(5):105955.
Kovács A, Palásti P, Veréb D, Bozsik B, Palkó A, Kincses ZT. The sensitivity and specificity of chest CT in the diagnosis of COVID-19. European Radiology. 2021;31(5):2819-24.
Waris A, Atta U, Ali M, Asmat A, Baset A. COVID-19 outbreak: current scenario of Pakistan. New Microbes and New Infections. 2020;35:100681.
Caruso D, Zerunian M, Polici M, Pucciarelli F, Polidori T, Rucci C, et al. Chest CT features of COVID-19 in Rome, Italy. Radiology. 2020;296(2):E79-E85.
Xie X, Zhong Z, Zhao W, Zheng C, Wang F, Liu J. Chest CT for typical coronavirus disease 2019 (COVID-19) pneumonia: relationship to negative RT-PCR testing. Radiology. 2020;296(2):E41-E5.
Fang Y, Zhang H, Xie J, Lin M, Ying L, Pang P, et al. Sensitivity of chest CT for COVID-19: comparison to RT-PCR. Radiology. 2020;296(2):E115-E7.
Wong HYF, Lam HYS, Fong AH-T, Leung ST, Chin TW-Y, Lo CSY, et al. Frequency and distribution of chest radiographic findings in patients positive for COVID-19. Radiology. 2020;296(2):E72-E8.
Wang Y, Hou H, Wang W, Wang W. Combination of CT and RT-PCR in the screening or diagnosis of COVID-19. Journal of global health. 2020;10(1).
Ng M-Y, Lee EY, Yang J, Yang F, Li X, Wang H, et al. Imaging profile of the COVID-19 infection: radiologic findings and literature review. Radiology: Cardiothoracic Imaging. 2020;2(1):e200034.
He J-L, Luo L, Luo Z-D, Lyu J-X, Ng M-Y, Shen X-P, et al. Diagnostic performance between CT and initial real-time RT-PCR for clinically suspected 2019 coronavirus disease (COVID-19) patients outside Wuhan, China. Respiratory medicine. 2020;168:105980.
Khatami F, Saatchi M, Zadeh SST, Aghamir ZS, Shabestari AN, Reis LO, et al. A meta-analysis of accuracy and sensitivity of chest CT and RT-PCR in COVID-19 diagnosis. Scientific reports. 2020;10(1):1-12.
Lan L, Xu D, Ye G, Xia C, Wang S, Li Y, et al. Positive RT-PCR test results in patients recovered from COVID-19. Jama. 2020;323(15):1502-3.
Oudkerk M, Büller HR, Kuijpers D, van Es N, Oudkerk SF, McLoud T, et al. Diagnosis, prevention, and treatment of thromboembolic complications in COVID-19: report of the National Institute for Public Health of the Netherlands. Radiology. 2020;297(1):E216-E22.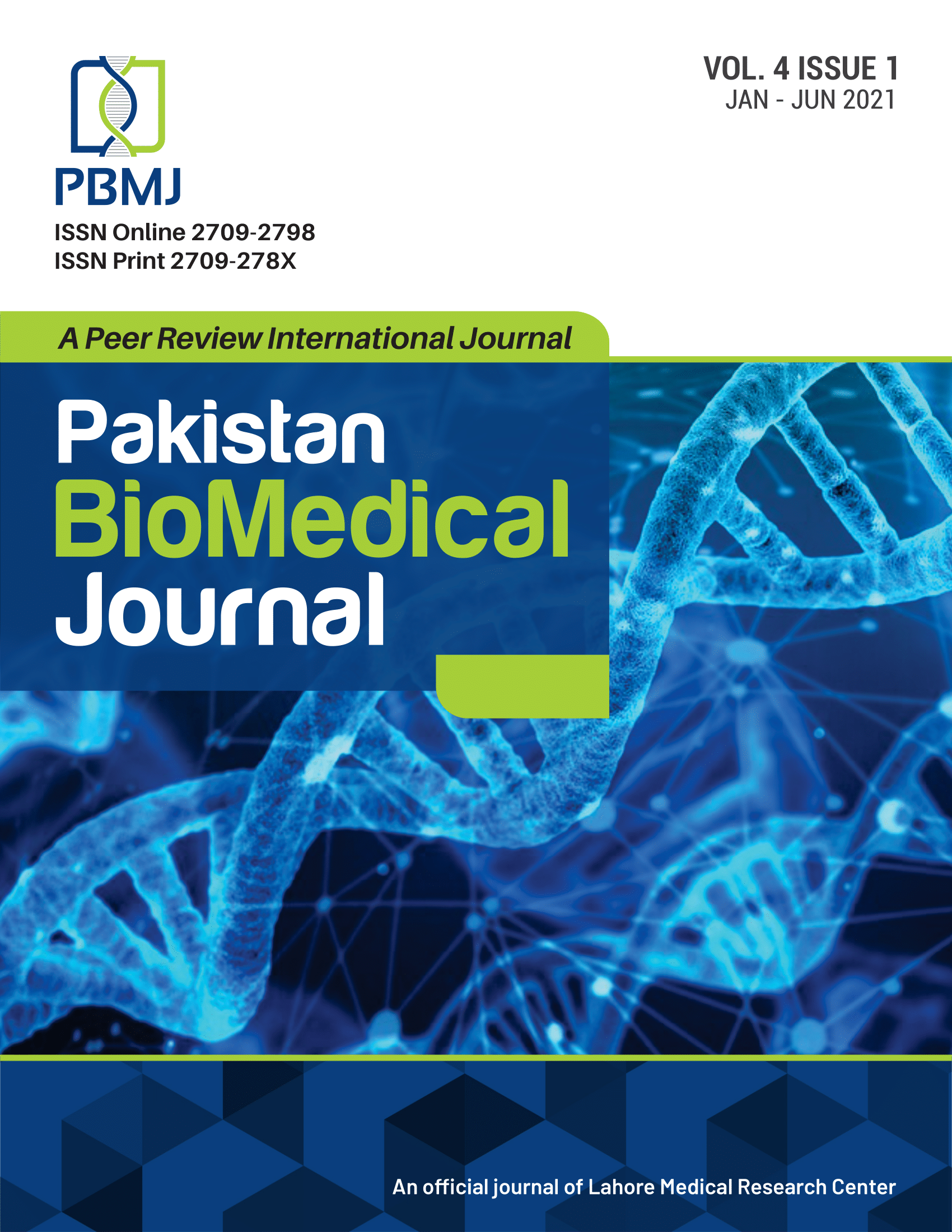 Downloads
CITATION
DOI: 10.54393/pbmj.v4i1.82
How to Cite
John, A. ., Faridi, T. A. ., Samreen, K. ., Gill, A., Noor, S. ., Iqbal, N. ., & John, N. . (2021). A Prospective Cohort Study on Suspected COVID-19 Patients undergoing Nasopharyngeal Swab PCR and HRCT: Nasopharyngeal Swab PCR and HRCT in COVID-19 Patients. Pakistan BioMedical Journal, 4(1). https://doi.org/10.54393/pbmj.v4i1.82
License
Copyright (c) 2021 Pakistan BioMedical Journal
This work is licensed under a Creative Commons Attribution 4.0 International License.
This is an open-access journal and all the published articles / items are distributed under the terms of the Creative Commons Attribution License, which permits unrestricted use, distribution, and reproduction in any medium, provided the original author and source are credited. For comments editor@pakistanbmj.com