Evaluation of Head On Computed Tomography Among Paediatric Patients Presenting with Trauma
Paediatric Patients Presenting with Trauma
Keywords:
Head, Trauma, Paediatric,Computed Tomography (CT), Skull
Abstract
Unintentional falls from heights are one of the leading causes of mortality and permanent brain and bone damage in children. Objective: To evaluate the causes, symptoms, and findings of paediatric head trauma using Computed Tomography. Methods: It was a descriptive cross-sectional study conducted at Aziz Bhatti Teaching Hospital, Gujrat. The data was collected from October 2022 to December 2022 for the duration of 4 months. A sample size of 120 patients has been calculated via a convenient sampling technique using a mean approach from previous related articles. Patients with falls from height in paediatric age 0-12 were included in the study while children elder than 12 were excluded from the study. The equipment used for the study was CT scan machine-64 helical. The data were entered and analyzed with the help of SPSS version 20.0.  Results: Out of 120 patients, most of the patients were in the age group of >1-5years 72(60.0%), 78(65.0%) patients were male while females were 42(35.0%). The most common finding on CT with a history of falls from height is noted to be skull fracture 51(42.5%). 84(70.0%) patients fall from the height of >6 and <15feet and the most common clinical finding in patients was pain 52(43.3%), followed by bleeding 41(34.2%). Conclusion: In conclusion, most of children between the age of 1-5years experience fall from a height of >6 feet to <15feet. Skull fracture is the most common diagnosis. CT is an accurate and reliable tool for diagnosing injuries in patients who fall from heights.
References
Pérez-Suárez E, Jiménez-García R, Iglesias-Bouzas M, Serrano A, Porto-Abad R, Casado-Flores J. Falls from heights in Pediatrics. Epidemiology and evolution of 54 patients. Medicina Intensiva. 2012 Mar; 36(2): 89-94. doi: 10.1016/j.medine.2012.04.001
Sharma M, Lahoti BK, Khandelwal G, Mathur RK, Sharma SS, Laddha A. Epidemiological trends of pediatric trauma: A single-center study of 791 patients. Journal of Indian Association of Pediatric Surgeons. 2011 Jul; 16(3): 88-92. doi: 10.4103/0971-9261.83484
Sun Q, Shi Y, Zhang F. Pediatric skull fractures and intracranial injuries. Experimental and therapeutic medicine. 2017 Sep; 14(3): 1871-4. doi: 10.3892/etm.2017.4715
Ganau M and Fehlings MG. Clinical and health policy-related challenges of pediatric spinal cord injuries. Neurology India. 2017 May; 65(3): 475. doi: 10.4103/neuroindia.NI_315_17
Garg K, Sharma R, Gupta D, Sinha S, Satyarthee GD, Agarwal D, et al. Outcome predictors in pediatric head trauma: A study of clinicoradiological factors. Journal of pediatric neurosciences. 2017 Apr; 12(2): 149-53. doi: 10.4103/jpn.JPN_179_16
Jordan BD. The clinical spectrum of sport-related traumatic brain injury. Nature Reviews Neurology. 2013 Apr; 9(4): 222-30. doi: 10.1038/nrneurol.2013.33
Lerner EB, Shah MN, Cushman JT, Swor RA, Guse CE, Brasel K, et al. Does mechanism of injury predict trauma center need?. Prehospital emergency care. 2011 Aug; 15(4): 518-25. doi: 10.3109/10903127.2011.598617
Araki T, Yokota H, Morita A. Pediatric traumatic brain injury: characteristic features, diagnosis, and management. Neurologia medico-chirurgica. 2017; 57(2): 82-93. doi: 10.2176/nmc.ra.2016-0191
Stewart MT. Clinical features and management of children with toddler's fracture or suspected toddler's fracture in the pediatric emergency department (PED). In2012 AAP National Conference and Exhibition 2012 Oct.
Bowers CA, Riva-Cambrin JA, Hertzler DA, Walker ML. Risk factors and rates of bone flap resorption in pediatric patients after decompressive craniectomy for traumatic brain injury. Journal of Neurosurgery: Pediatrics. 2013 May; 11(5): 526-32. doi: 10.3171/2013.1.PEDS12483
Chaudhary S, Figueroa J, Shaikh S, Mays EW, Bayakly R, Javed M, et al. Pediatric falls ages 0-4: understanding demographics, mechanisms, and injury severities. Injury epidemiology. 2018 Apr; 5(1): 77-87. doi: 10.1186/s40621-018-0147-x
Lerwick JL. Minimizing pediatric healthcare-induced anxiety and trauma. World journal of clinical pediatrics. 2016 May 8; 5(2): 143-50. doi: 10.5409/wjcp.v5.i2.143
Tavarez MM, Atabaki SM, Teach SJ. Acute evaluation of pediatric patients with minor traumatic brain injury. Current opinion in pediatrics. 2012 Jun; 24(3): 307-13. doi: 10.1097/MOP.0b013e3283531ce6
Babu A, Rattan A, Ranjan P, Singhal M, Gupta A, Kumar S, et al. Are falls more common than road traffic accidents in pediatric trauma? Experience from a Level 1 trauma centre in New Delhi, India. Chinese journal of traumatology. 2016 Apr; 19(2): 75-8. doi: 10.1016/j.cjtee.2015.10.004
Hale AT, Stonko DP, Brown A, Lim J, Voce DJ, Gannon SR, et al. Machine-learning analysis outperforms conventional statistical models and CT classification systems in predicting 6-month outcomes in pediatric patients sustaining traumatic brain injury. Neurosurgical focus. 2018 Nov; 45(5): 1-7. doi: 10.3171/2018.8.FOCUS17773
Dara PK, Parakh M, Choudhary S, Jangid H, Kumari P, Khichar S. Clinico-radiologic profile of pediatric traumatic brain injury in Western Rajasthan. Journal of Neurosciences in Rural Practice. 2018 Apr; 9(02): 226-31. doi: 10.4103/jnrp.jnrp_269_17
Karmacharya BG, Acharya B. Pediatric head injuries in a neurosurgery center of Nepal: an epidemiological perspective. American Journal of Public Health Research. 2015 Jun; 3: 76-9.
Tunthanathip T, Phuenpathom N. Impact of road traffic injury to pediatric traumatic brain injury in Southern Thailand. Journal of neurosciences in rural practice. 2017 Oct; 8(04): 601-8. doi: 10.4103/jnrp.jnrp_381_17
John SM, Jones P, Kelly P, Vincent A. Fatal pediatric head injuries: a 20-year review of cases through the Auckland coroner's office. The American Journal of Forensic Medicine and Pathology. 2013 Sep; 34(3): 277-82. doi: 10.1097/PAF.0b013e3182a187e9
Iobst CA, Spurdle C, Baitner AC, King WF, Tidwell M, Swirsky S. A protocol for the management of pediatric type I open fractures. Journal of Children's Orthopaedics. 2014 Feb; 8(1): 71-6. doi: 10.1007/s11832-014-0554-7
Rabiu TB and Ogundipe H. Profile of Pediatric Traumatic Brain Injury in South-West Nigeria. World neurosurgery. 2022 Oct; 166: e711-20. doi: 10.1016/j.wneu.2022.07.078
Hung KL. Pediatric abusive head trauma. biomedical journal. 2020 Jun; 43(3): 240-50. doi: 10.1016/j.bj.2020.03.008
Sarkar K, Keachie K, Nguyen U, Muizelaar JP, Zwienenberg-Lee M, Shahlaie K. Computed tomography characteristics in pediatric versus adult traumatic brain injury. Journal of Neurosurgery: Pediatrics. 2014 Mar; 13(3): 307-14. doi: 10.3171/2013.12.PEDS13223
Işık HS, Gökyar A, Yıldız Ö, Bostancı U, Özdemir C. Pediatric head injuries, retrospective analysis of 851 patients: an epidemiological study. Turkish Journal of Trauma and Emergency Surgery. 2011 Mar; 17(2): 166-72. doi: 10.5505/tjtes.2011.22800
Chabok SY, Kapourchali SR, Leili EK, Saberi A, Mohtasham-Amiri Z. Effective factors on linguistic disorder during acute phase following traumatic brain injury in adults. Neuropsychologia. 2012 Jun; 50(7): 1444-50. doi: 10.1016/j.neuropsychologia.2012.02.029
Joyce T, Huecker MR. Pediatric Abusive Head Trauma (Shaken Baby Syndrome). Calio search. 2018.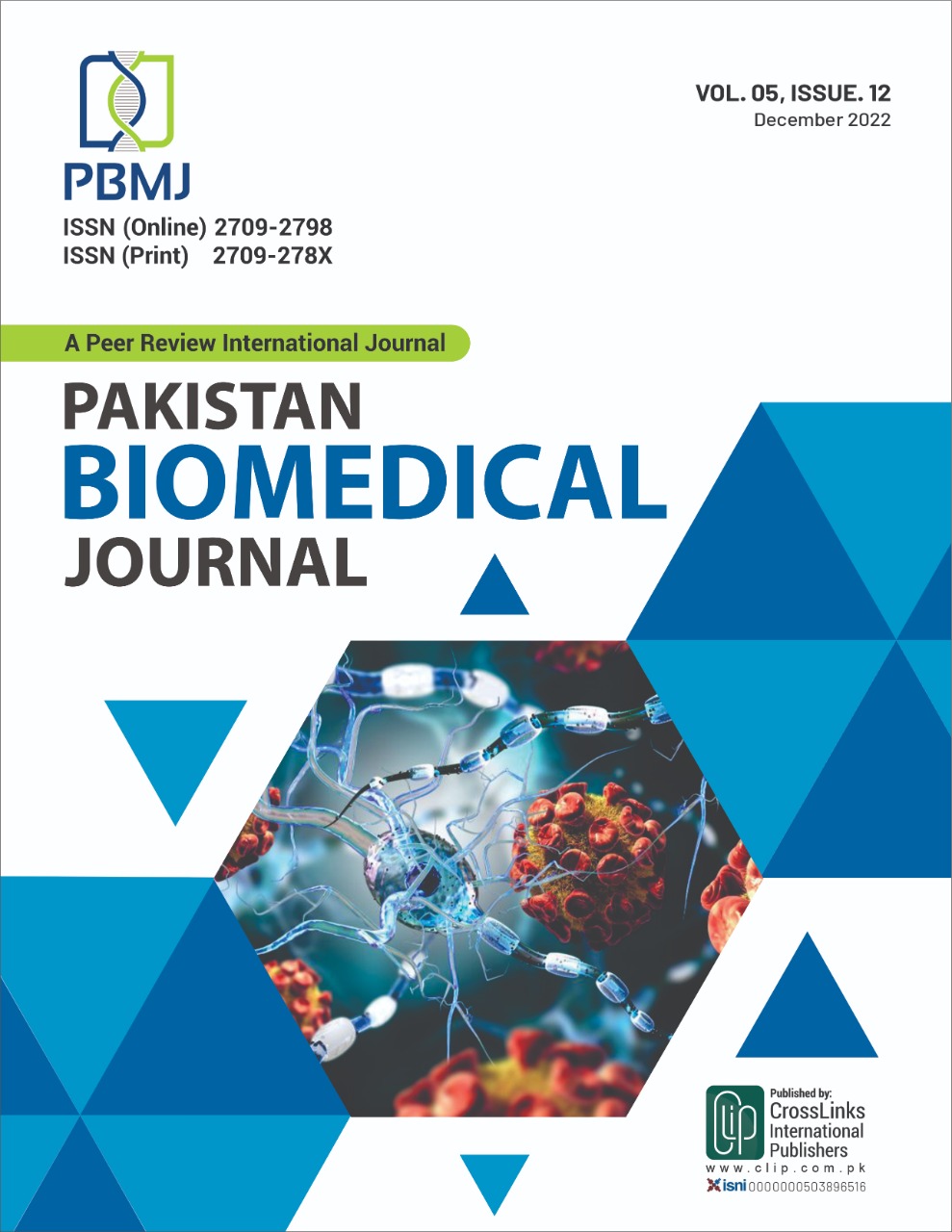 Downloads
CITATION
DOI: 10.54393/pbmj.v5i12.834
How to Cite
Ansar, A. ., John, A. ., Ali, A. ., Zafar, A. ., Saghir, Z. ., & Junaid Dar, A. . (2022). Evaluation of Head On Computed Tomography Among Paediatric Patients Presenting with Trauma: Paediatric Patients Presenting with Trauma. Pakistan BioMedical Journal, 5(12), 21–24. https://doi.org/10.54393/pbmj.v5i12.834
License
Copyright (c) 2022 Pakistan BioMedical Journal
This work is licensed under a Creative Commons Attribution 4.0 International License.
This is an open-access journal and all the published articles / items are distributed under the terms of the Creative Commons Attribution License, which permits unrestricted use, distribution, and reproduction in any medium, provided the original author and source are credited. For comments editor@pakistanbmj.com