Pathologies of Paranasal Sinuses Diagnosed On Computed Tomography
Paranasal Sinuses Diagnosed on CT
Keywords:
Paranasal Sinus, Nasal Obstruction, Bilateral, Computed Tomography, Sinusitis
Abstract
The pathological and physiological changes of the paranasal sinus are advanced. The paranasal sinuses are present as paired, air-filled chambers. Symptoms of paranasal sinuses include nasal obstruction, fever, nasal discharge, and swelling. The most common site of PNS pathologies is the maxillary sinus. Computed tomography aids in the diagnosis and provides a detailed image of PNS. Objective: To evaluate the most common occurring pathology of the paranasal sinus using Computed Tomography. Methods: It was a cross-sectional study that was collected from the Radiology Department of Aziz Bhatti Shaheed Hospital Gujrat' Pakistan from October 2022 to January 2022. The data was collected using simple random sampling and the sample size was collected from patients. The sample size collected was 83. The patients of the age group 10-60 were included in this study. The paranasal sinuses pathologies were diagnosed on a CBCT scan. Data were collected with the help of SPSS 20.0. Results: Out of 83 patients in which 45(54.2) are female and 38(45.8) are male. The most common disease is sinusitis. 22(26.5) patients represent Nasal obstruction, 19(22.5) with nasal discharge (22.9) and, 14(16.9) with swelling. The maxillary sinus is the most common site for PNS pathology. Conclusions: The patient of age group 30-45 is most suffering from PNS disease. The most common disease is the site. The CT scan provides high-quality Para nasal sinuses to aid accurate diagnosis of a patients suffering from a variety of Paranasal sinuses pathologies.
References
Ogle OE, Weinstock RJ, Friedman E. Surgical anatomy of the nasal cavity and paranasal sinuses. Oral and Maxillofacial Surgery Clinics. 2012 May; 24(2): 155-66. doi: 10.1016/j.coms.2012.01.011
Vaid S and Vaid N. Normal anatomy and anatomic variants of the paranasal sinuses on computed tomography. Neuroimaging Clinics. 2015 Nov; 25(4): 527-48. doi: 10.1016/j.nic.2015.07.002
Keir J. Why do we have paranasal sinuses?. The Journal of Laryngology & Otology. 2009 Jan; 123(1) :4-8. doi: 10.1017/S0022215108003976
Barnes L. Diseases of the nasal cavity, paranasal sinuses, and nasopharynx. In Surgical Pathology of the Head and Neck 2019 Jan; 353-432. CRC Press.
Verma J, Tyagi S, Srivastava M, Agarwal A. Computed tomography of paranasal sinuses for early and proper diagnosis of nasal and sinus pathology. International Journal of Otorhinolaryngology and Head and Neck Surgery. 2016 Apr; 2(2): 70-6. doi: 10.18203/issn.2454-5929.ijohns20160957
Kanwar SS, Mital M, Gupta PK, Saran S, Parashar N, Singh A. Evaluation of paranasal sinus diseases by computed tomography and its histopathological correlation. Journal of Oral and Maxillofacial Radiology. 2017 May; 5(2): 46-52.
Aksoy EA, Özden SU, Karaarslan E, Ünal ÖF, Tanyeri H. Reliability of high-pitch ultra-low-dose paranasal sinus computed tomography for evaluating paranasal sinus anatomy and sinus disease. Journal of Craniofacial Surgery. 2014 Sep; 25(5): 1801-4. doi: 10.1097/SCS.0000000000000966
Patel SH, Wang Z, Wong WW, Murad MH, Buckey CR, Mohammed K, et al. Charged particle therapy versus photon therapy for paranasal sinus and nasal cavity malignant diseases: a systematic review and meta-analysis. The Lancet Oncology. 2014 Aug; 15(9): 1027-38. doi: 10.1016/S1470-2045(14)70268-2
Adeel M, Rajput MS, Akhter S, Ikram M, Arain A, Khattak YJ. Anatomical variations of nose and para-nasal sinuses; CT scan review. Journal of the Pakistan Medical Association. 2013Mar; 63(3): 317-9.
Kirsch CF, Bykowski J, Aulino JM, Berger KL, Choudhri AF, Conley DB, et al. ACR appropriateness criteria® Sinonasal disease. Journal of the American College of Radiology. 2017 Nov; 14(11): S550-9. doi: 10.1016/j.jacr.2017.08.041
Ostrowska J, Lindström L, Tóth T, Hansson K, Uhlhorn M, Ley CJ. Computed tomography characteristics of equine paranasal sinus cysts. Equine Veterinary Journal. 2020 Jul; 52(4): 538-46. doi: 10.1111/evj.13212
Bagul M. Computed tomography study of paranasal sinuses pathologies. International Journal of Scientific Study. 2016 Jul; 4(4): 12-6.
Iqbal J, Rashid S, Darira J, Shazlee MK, Ahmed MS, Fatima S. Diagnostic accuracy of CT scan in diagnosing paranasal fungal infection. Journal of the College of Physicians and Surgeons Pakistan. 2017 May ;27(5): 271-4.
Blackwell DL, Lucas JW, Clarke TC. Summary health statistics for US adults: national health interview survey, 2012. Vital and health statistics. Series 10, Data from the National Health Survey. 2014 Feb; (260):1-61.
Hopp AC, Fahrenholtz SJ, Bashford JV, Long JR, Panda A, Katz DS, et al. The Magnet Is Sometimes "Off"–Practical Strategies for Optimizing Challenging Musculoskeletal MR Imaging. Current Problems in Diagnostic Radiology. 2021 Mar; 51(3): 392-402. doi: 10.1067/j.cpradiol.2021.03.007
Eggesbø HB. Radiological imaging of inflammatory lesions in the nasal cavity and paranasal sinuses. European Radiology. 2006 Apr; 16(4): 872-88. doi: 10.1007/s00330-005-0068-2
Gilain L, Houette A, Montalban A, Mom T, Saroul N. Mucosal melanoma of the nasal cavity and paranasal sinuses. European Annals of Otorhinolaryngology, Head and Neck Diseases. 2014 Dec; 131(6): 365-9. doi: 10.1016/j.anorl.2013.11.004
Haug RH. Microorganisms of the nose and paranasal sinuses. Oral and Maxillofacial Surgery Clinics. 2012 May; 24(2): 191-6. doi: 10.1016/j.coms.2012.01.001
Setzen G, Ferguson BJ, Han JK, Rhee JS, Cornelius RS, Froum SJ, et al. Clinical Consensus Statement. Otolaryngology–Head and Neck Surgery. 2012 Oct; 147(5): 808–16. doi: 10.1177/0194599812463848
Butaric LN, Wadle M, Gascon J, Pediatric Imaging, Neurocognition and Genetics Study†. Anatomical variation in maxillary sinus ostium positioning: Implications for nasal‐sinus disease. The Anatomical Record. 2019 Jun; 302(6): 917-30. doi: 10.1002/ar.24039
Ogolodom MP, Ugwu AC, Ohagwu CC, Chukwuemeka E, Joseph TC, Egbeyemi OO. Patterns and prevalence of paranasal sinuses diseases among patients referred for paranasal sinuses computed tomography in Port Harcourt Rivers State, Nigeria. International Journal of Medical and Health Research. 2018Nov; 4(11): 71-5.
Hussein AO, Ahmed BH, Omer MA, Manafal MF, Elhaj AB. Assessment of clinical, X-Ray and CT in diagnosis of paranasal sinus diseases. International Journal of Science and Research. 2014Jun; 3(6): 7-11.
Maillet M, Bowles WR, McClanahan SL, John MT, Ahmad M. Cone-beam Computed Tomography Evaluation of Maxillary Sinusitis. Journal of Endodontics. 2011 Jun; 37(6): 753–7. doi: 10.1016/j.joen.2011.02.032
Marmura MJ and Silberstein SD. Headaches caused by nasal and paranasal sinus disease. Neurologic Clinics. 2014 May; 32(2): 507-23. doi: 10.1016/j.ncl.2013.11.001
Dong D, Wang Y, Li C, Zhang H, Zhao Y, Lai J. Fibro‐osseous Lesions of Paranasal Sinus and Craniofacial Region: A Retrospective Study of 282 Cases. The Laryngoscope. 2021 Jan; 131(1): E1-7. doi: 10.1002/lary.28529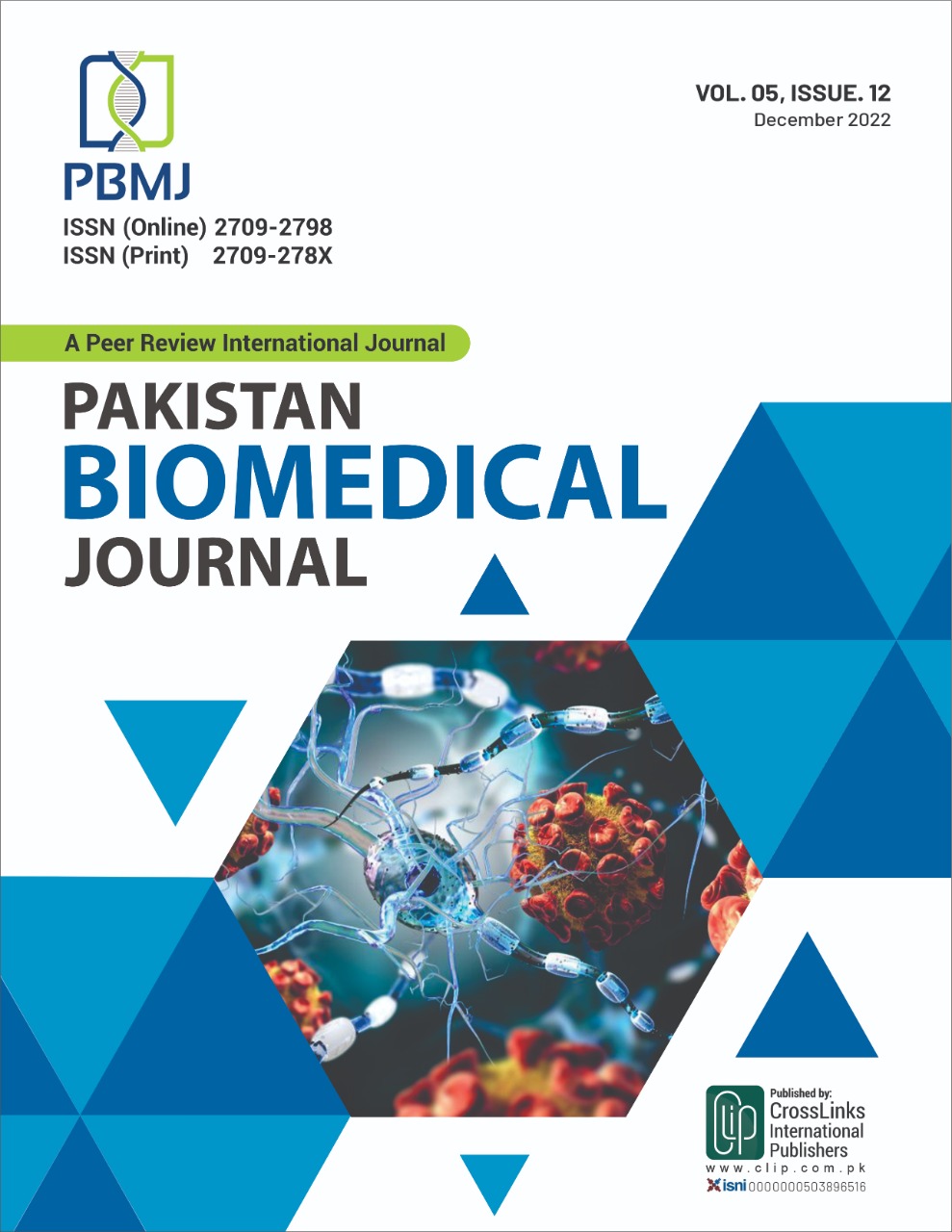 Downloads
CITATION
DOI: 10.54393/pbmj.v5i12.836
How to Cite
Saghir , Z. ., John, A., Ali, A. ., Ansar, A. ., Sehar Nadeem, N. ., & Maham Cheema, H. . (2022). Pathologies of Paranasal Sinuses Diagnosed On Computed Tomography: Paranasal Sinuses Diagnosed on CT. Pakistan BioMedical Journal, 5(12), 17–20. https://doi.org/10.54393/pbmj.v5i12.836
License
Copyright (c) 2022 Pakistan BioMedical Journal
This work is licensed under a Creative Commons Attribution 4.0 International License.
This is an open-access journal and all the published articles / items are distributed under the terms of the Creative Commons Attribution License, which permits unrestricted use, distribution, and reproduction in any medium, provided the original author and source are credited. For comments editor@pakistanbmj.com