Determinants of Lack of Family Planning in Grand Multiparous Women
Lack of Family Planning in Grand Multiparous Women
Abstract
Multiparity is a matter of great concern regarding the health of women as well as child. At the same time it has different determinants and socioeconomic backgrounds.Objective: To determine the determinants of lack of family planning in grand multiparous women.Methods: It is a descriptive cross sectional study including 271 GMP patients from DHQ Hospital Okara city. Mean age was 35 ± 10 years. Data was collected with the help of questionnaire and evaluated and analyzed using SPSS version 24. Mean and standard deviation was calculated for quantitative data and frequency and percentages for qualitative data. To measure the determinants of lack of family planning, chi square test was used. P values less than and equal to 0.05 were taken as significant.Results:Most of women belong to rural area 172(63.47%) and areMuslims 259(95.5%). Most of the families lie under upper lower 149 (54.8%) and lower middle group of income 71(26.1%). The reason of last pregnancy was desire for baby boy 66(24.4%), then husband's wish 45(16.6%)and so on.There is a good association of socioeconomic status and residence of head of family as p < 0.05, (Results are 325.272a, df = 10, p=0 .000). There is an association of Gravida and socioeconomic status of head of family as p<0.05. (27.294, df= 20, p=.05). There is a good association between reasons of last pregnancy and gravida as p<0.05, (41.920, df = 24, p=0 .001).Conclusions:The grand multiparty is still very common in Okara Pakistan district, considering the easy availability of modern contraceptive methods but very few women are aware of it. The most popular explanation given for present pregnancy by grand multiparous women was an urge for baby boy followed by husband wish. Most of women are Muslims. Rural Women are more socio-economically down and they have grandermultiparty.
References
Simonsen, SE and VarnerMW(2014). Grand multiparity. United States: UpToDate.https://www.uptodate.com/contents/grand-multiparity
AhmedB, Kenyab N, SalehN, AzzamA and AlmohandiH (2005). Pregnancy outcome in grand and great grand multiparity. Qatar Med. J,2005(1): 12. doi: https://doi.org/10.5339/qmj.2005.1.12
MgayaAH, MassaweSN,KidantoHL and MgayaHN(2013). Grand multiparity: is it still a risk in pregnancy? BMC Preg.Chldbrth., 13(1): 1-8. doi: 10.1186/1471-2393-13-241
SolankeBL, BanjoOO, OyinloyeBO, & AsaSS. (2018). Maternal grand multiparity and intention to use modern contraceptives in Nigeria. BMC Pub.Hlth.,18(1): 1-15https://bmcpublichealth.biomedcentral.com/articles/10.1186/s12889-018-6130-1
JohnsonOE(2017). Determinants of modern contraceptive uptake among Nigerian women: evidence from the national demographic and health survey. Afr.J.Rrep.Hlth.,21(3): 89-95.doi: 10.29063/ajrh2017/v21i3.8
Sultana R and Humayun S (2011). Determinants of Grand Multiparity. J. Fatima Jinnah Med. Univ., 5(4)
Aduloju-AjijolaNM, IdoghoO, YusufF, MuhammedFand AnyantiJ. (2020). Examining the Determinants of Contraceptive Use in Northern Nigeria.Preprint Research Square,doi: 10.21203/rs.3.rs-71531/v1
GeorgeN, SulekhaT, RamachandranA, PetersA and KiranPR(2018). The unmet needs for family planning and its associated factors among ever married women in selected villages of Anekal taluk, Karnataka: acommunity based cross sectional study. Int. J. Comm.Med. Pub. Hlth., 5(5): 2048-2052.doi: http://dx.doi.org/10.18203/2394-6040.ijcmph20181721
Nyauchi B and Omedi G (2014). Determinants of unmet need for family planning among women in rural Kenya. Suppl. Demog. Hlth. Surveys Afr.,28 (2). doi: https://doi.org/10.11564/28-0-552
PalSA(2014). Pakistan can progress with sensible family planning. J. Pak. Med. Assoc., 64(4): 368-369.https://jpma.org.pk/article-details/6285?article_id=6285
EmechebeC, NjokuC, EyongE, MaduekweK.and UkagaJ.(2016). The social class and reasons for grand multiparity in Calabar, Nigeria. Trop. J.Obst. Gynae., 33(3): 327. doi: 10.4103/0189-5117.199808
UmeoraOUJ, NzeremUN and EzeJN. (2013). What drives grand multiparous women in rural Nigeria to seek treatment for infertility. Afr. J. Med.Hlth Sci., 12(1): 15http://www.ajmhs.org/article.asp?issn=23845589;year=2013;volume=12;issue=1;spage=15;epage=19;aulast=Umeora
Idoko P, Nkeng G, Anyawu M (2016). Reasons for current pregnancy amongst grand multiparous Gambian women-a cross sectional survey. BMC Preg. Chldbrth.2016 (1):217.doi:10.1186/s12884-016-1016-7
Adeniran AS, Fawole AA, Fakeye OO, Ijaiya MA, Adesina KT (2014). Grandmultiparity: evaluating obstetric and neonatal outcomes after eliminitaing confouders. Niger. Postgrad. Med. J., 21(1): 34-9
Rabiu A, Abubakar IS, Garba I, Haruna IU. Contraceptive choices among grand multiparous women at Murtala Mohammed Specialist Hospital, Kano. Annals of African medicine. 2016; 15(2):58.
Blackstone SR, Iwelunmor J (2017). Determinants of contraceptive use among Nigerian couples: evidance from the 2013 Demographic and Health Survey. Contracep. Reprod. Med.1: 2(1):9.doi: 10.1186/s40834-017-0037-6
Kuti O, Dare FO, Ogunniyi SO (2001). Grandmultiparity mothers' Own reasons for the index pregnancy. Trop. J. Obs. Gynaecol.8(1):31-3.doi: 10.4314/tjog.v18i1.14447
Eugene M I, Abedinego O A (2017). Grandmultiparity: Is it really an independent predictor of adverse pregnancy outcomes?. Saudi J. Hlth. Sci.,6:77-82, doi: 10.4103/sjhs.sjhs_98_16
Odidika Ugochukwu Joannes Umeora, Uchechi Noelene Nzerem, Justus Ndulue Eze (2013). What drives grand multiparous women in rural Nigeria to seek treatment for infertility. Afr. J. Med. Hlth. Sci. 12 (1), 15-19, http://www.ajmhs.org/text.asp?2013/12/1/15/129917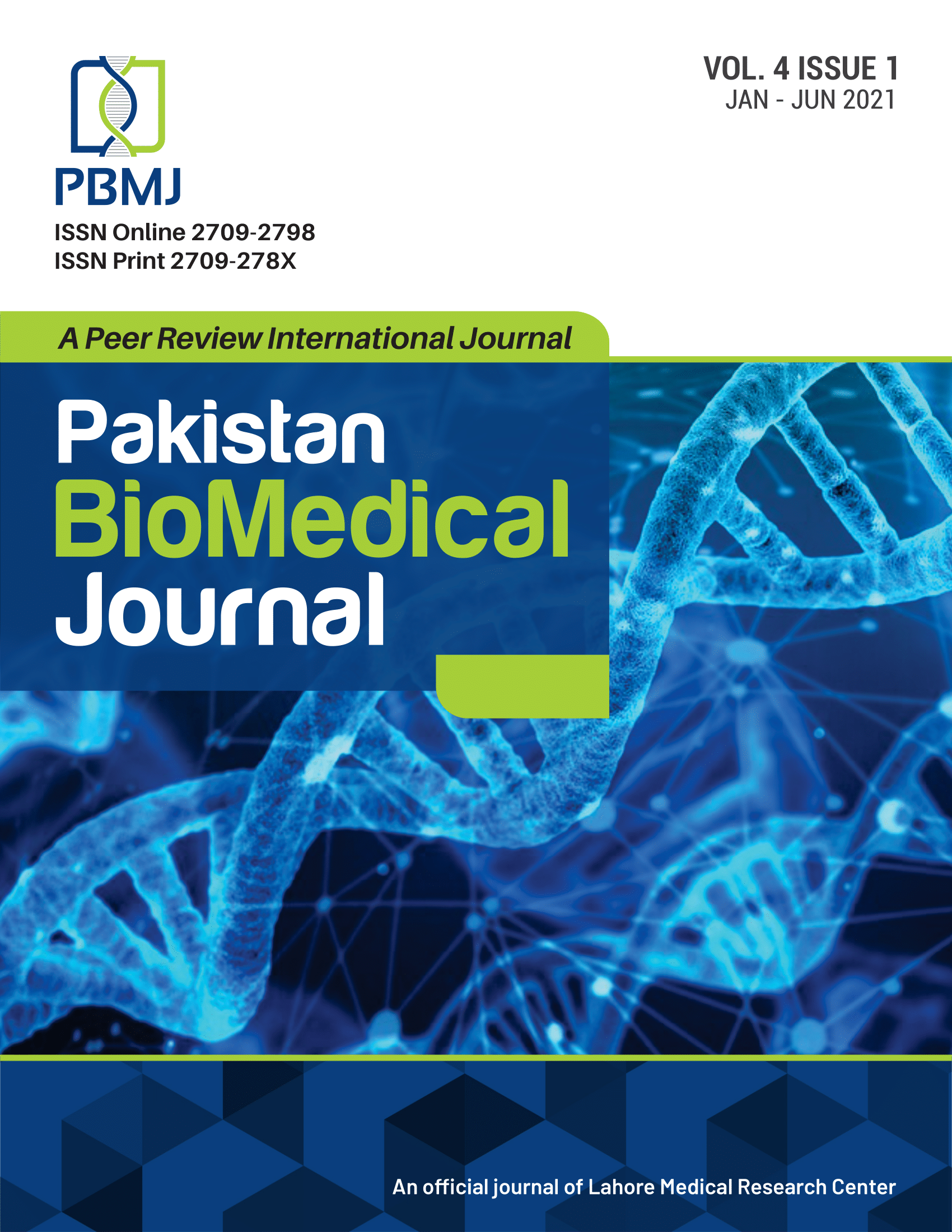 Downloads
CITATION
DOI: 10.52229/pbmj.v4i1.75
How to Cite
Noor, S. ., Rana, M. S. ., Hanif, A. ., John, A., Noor, A. ., Noor, A. ., Zahid, S. ., Hassan, T. ., Faridi, T. A., & Iqbal, N. . (2021). Determinants of Lack of Family Planning in Grand Multiparous Women: Lack of Family Planning in Grand Multiparous Women. Pakistan BioMedical Journal, 4(1). https://doi.org/10.52229/pbmj.v4i1.75
License
Copyright (c) 2021 Pakistan BioMedical Journal
This work is licensed under a Creative Commons Attribution 4.0 International License.
This is an open-access journal and all the published articles / items are distributed under the terms of the Creative Commons Attribution License, which permits unrestricted use, distribution, and reproduction in any medium, provided the original author and source are credited. For comments editor@pakistanbmj.com